Get outside and explore the Earth.
This minor is an excellent complement to the environmental science major, but it's also a great opportunity for students in any major to investigate how Earth works.
What you'll study
Your courses will involve both field trips and lab work, as this kind of hands-on experience is essential. You'll start by learning about the general processes that shaped — and continue to shape — the Earth. Later, you'll be able to study specialized branches of geosciences, including:
Paleontology — the study of prehistoric life through fossils
Geohazards — the study of naturally occurring (or man-made) geological conditions capable of causing damage or loss of property or life
Climate change — the study of long-term shifts in temperature and weather patterns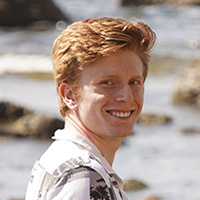 I would absolutely recommend Geosciences to future students. Geology is a very niche and beyond interesting science and for me personally, is an escape from the rest of society at times to try and understand how our planet works.
Cameron Fetter '25
---
Popular Major Pairings