Study the dynamics of society.
It's important to understand human relationships, communities, and societies. By analyzing the social world that we live in — and the forces that shape it — you'll gain skills that can be used in a wide range of professional and academic fields.
What you'll study
You'll examine the social forces shape human experiences, including culture, race, gender, and social class. You'll also choose which topics you want to study more in depth, such as sexuality, immigration, or education. Through internships, guest speakers, and optional travel seminars, you'll apply sociological knowledge to understand how local subcultures and other cultures face different contemporary social issues.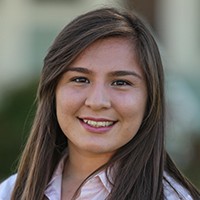 In addition to my degree in psychology, my sociology minor has aided my perspective on people's motives and perceptions based on life events. It also demonstrates how important it is to consider things outside of theoretical practice and more towards the implications of theory. It has helped me immensely throughout my courses and perspective on everyday life.
Savannah Aviles '18
---