The second most spoken language.
Spanish is the second most spoken language in the United States and the world. Becoming fluent in it will serve you well in our increasingly international and multicultural society.
What you'll study
You'll become fluent in Spanish through classes conducted in the language itself. The topics of these courses will include Spanish and Hispanic literature, history, and film. You can also immerse yourself in the culture of a Spanish-speaking country by studying abroad in cities such as Barcelona.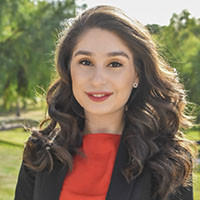 As Communications Director for Assemblymember Irwin, being bilingual is an essential part of my job because a predominant part of the population we represent is comprised of Spanish-speaking communities. I use Spanish when I help constituents over the phone, send press releases to Spanish media, and make public statements at events or ceremonies on behalf of the Assemblymember. My Spanish minor prepared me for my current role by expanding my overall knowledge of the language structure, its rich history, and most importantly, improving my writing skills.
Karie Portillo Guerra '17
Communications Director, California State Assemblymember Jacqui Irwin
---