The sports market is a multi-billion-dollar industry that continues to grow and evolve rapidly.
To keep up with these changes, you'll need a solid business background that's geared toward the world of sports.
What you'll study
Your introductory course will cover the relevant areas of law, economics, marketing, and business administration. Your next classes will explore what motivates athletes and the factors that affect their performance. Finally, you'll complete an internship to put the skills you have learned into practice.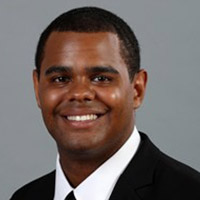 I always knew I wanted to work in sports management. Having my minor has helped me be versatile and stand out in a competitive results-driven professional environment. The sports management minor program at Cal Lutheran is special because it has helped me show others in this industry that I've taken the time to prepare myself and I really want to continue to grow in the NBA professional ranks.
Josh Malone '15
Communication Major
Director of Basketball Operations, Chicago Bulls G-League Affiliate
---
Popular Major Pairings