Exercise Science
Bachelor of Science
Exercise Science is an interdisciplinary program that prepares you for allied health, human movement, and physical education careers.
With an emphasis on experiential learning and multiple research opportunities, you'll develop the strong inquiry skills necessary to excel.
A strong research focus right from the start
Hands-on research is a core part of the exercise science program. Through your courses, you'll:
Be introduced to research methods and literature
Participate as subjects in other students' projects
Complete group projects that answer specific questions in advanced classes
Conduct a semester or year-long research project in the Senior Capstone on a topic of your choosing
State of the art equipment supports your research
The new Swenson Science Center emphasizes science on display, with labs surrounded by windows so you can witness experiments right when you enter the building. The Biomechanics and Exercise Physiology Ergometer Teaching Labs give you access to the tools and equipment you'll need to conduct meaningful research, including:
3-dimensional force plates
Biodex Isokinetic Unit
8-camera optical motion capture and analysis system
Telemetered electromyography system
Metabolic measurement systems
12-channel ECG
Ergometers for the measurement of work and power
Bod Pod body composition analyzer
The department also has two research laboratories in the Gilbert Sports and Fitness Center that house more cutting edge technologies, including Ultrasound and Air Displacement Plethysmography (Bod Pod).
Many research and internship opportunities
The program also provides research opportunities through various summer research programs including the Swenson Summer Research Fellowship program, ALLIES in STEM and the Aperture program. You can also participate in directed research with a faculty member or independent study research in an area of interest to you.
We also encourage and support internship opportunities at sites that include Physical Therapy and Occupational Therapy clinics, Los Robles Hospital, University Village Retirement Community, Sports Academy and SportsWestKids training center.
Develop professionally as you learn
There is a strong focus on professional development and engagement. Our students frequently attend national and regional meetings to network and/or present their research to the greater science community. Cal Lutheran even has one of the largest presence at the American College of Sports Medicine Southwest Chapter Conference annually held in October.
---
Emphasis Areas
Health Professions
Human Performance
Pedagogy/Teaching Physical Education
Programs
Offered as a major (BS).
Popular Minor Pairings
Want to learn more?
Let us know and we'll send you information about our academics, campus life, admission process, and more!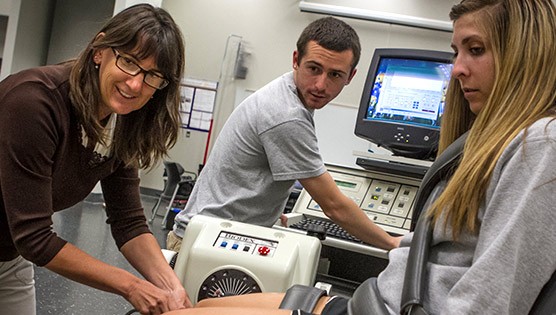 My work enables me to remain a student, which helps me connect with my students. I think it brings authenticity to what I'm trying to do in the classroom – how can I ask them to work hard and to be enthused about learning if I don't model that myself?

Michele LeBlanc
Professor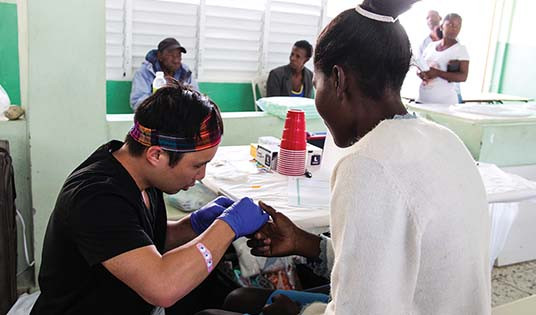 Dr. Hawkins' classes made me passionate about the study of exercise and movement. I was able to apply what I was learning in my 'Exercise Physiology' and 'Advanced Exercise Physiology' classes to my own life as an athlete and at the clinics and hospitals I interned at.
Peter Mu-Ping Lee '19
Connect with Cal Lutheran Students
Want to hear more about Cal Lutheran directly from our students? View the list of students below and click to start chatting!
Many exercise science careers require additional education, certification, or licensure beyond an undergraduate degree.
Upon graduation, you will be prepared to enter additional educational programs in medicine, physical therapy, athletic training/sports medicine, exercise physiology, biomechanics, fitness management, nutrition, teaching physical education, and other health- and movement-related fields.
Our alumni study at:
Asuza Pacific University
Baylor University
Chapman University
Duke University School of Medicine
George Washington University
Loma Linda University
Regis University
University of North Carolina
University of Southern California (USC)
University of Washington
Western Kentucky University
Western University of Health Sciences
Yale University
Our alumni work for:
Camarillo Family YMCA
Elite Fitness Plus
Fire Department
Hand Rehabilitation Specialists
Los Robles Regional Medical Center
Southern California Orthopedic Institute
Recooperation Physical Therapy
San Ramon Regional Medical Center
Custom Physical Therapy
Paraxel Biopharmaceutical and Medical Device Company
Teach for America
Career paths:
Athletic Trainer
Firefighter
Physical Therapist
Occupational Therapist
Physician's Assistant
Physician
Physical Educator
Prosthetics
Registered Nurse
Sports Physical Therapist
of Cal Lutheran graduates find a job or enroll in graduate school within nine months
More Career Outcomes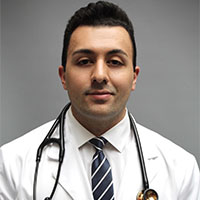 The exercise science program set me up for success through early exposure to courses like functional anatomy, biomechanics & exercise physiology. Upon entering medical school, I was at a huge advantage compared to my peers who had majored in more 'traditional' pre-med majors like biology & chemistry. Ultimately, the diversity of coursework, support from faculty and culture of promoting inquisitiveness are what make the exercise science program special.
Anthony Enzo Seddio '19
Exercise Science Major
M.D Student, Loyola Chicago School of Medicine
Want to learn more?
Let us know and we'll send you information about our academics, campus life, admission process, and more!