Alumni Awards
The Cal Lutheran Alumni Board of Directors Awards Program recognizes the outstanding achievements of California Lutheran University alumni. Nominations for awards in the five categories listed below are welcomed from all members and friends of the Cal Lutheran community.
We look forward to receiving your nominations and recognizing the outstanding achievements of your fellow alumni.
Chris Kajtor, MPPA
Outstanding Young Alumni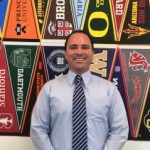 Chris Kajtor grew up in the San Fernando Valley and attended Crespi Carmelite High School, where his teachers inspired him to attend CLU.
At CLU, Chris learned valuable lessons about who he was and what was important to him. CLU taught him that his passion was helping others to become the best that they can be.
During his time at CLU, Chris was given many opportunities to learn, grow, and experience new situations, which furthered his personal and professional growth. These experiences led him into multiple avenues after graduation including serving as a Peace Corps volunteer in Ukraine, being awarded a Fulbright scholarship to Romania, and recently pursuing a career in education.
Chris is known for saying, "CLU helped me to become a man," and feels his personal and professional development increased exponentially through his experience there. It was the guidance, nurturing, and real-life examples at CLU that gave him the courage to pursue his dreams. At CLU, Chris was a TA for Dr. Schwarz' Holocaust in Literature and Film course, and created his own undergraduate course entitled The Philosophy of Becoming a Man with Dr. Bersley. Chris also served as a graduate assistant for Residence Life, an experience that helped him realize his passion for helping students reach their full potential.
Chris also had multiple internships while a student at CLU including working in Human Resources for the Las Virgenes Municipal Water District, as a communications intern with the ALS association, and as an intern for the Ventura Housing Authority, where he started a mentoring program with CLU students and children from low-income communities.
As a Peace Corps volunteer, Chris taught in the International Relations Department at the University of Khmelnitsky and worked closely with local NGOs, pediatric cancer facilities, and orphanages, and brought the sport of baseball to his city in Ukraine.
As a Fulbright scholar, he taught in the American Studies department at the University of Transylvania in Romania and researched the best ways to help Romanian students attend and graduate college.
Chris has a bachelor's degree in psychology and sociology and a master's degree in public policy and administration from CLU.