Alumni Awards
The Cal Lutheran Alumni Board of Directors Awards Program recognizes the outstanding achievements of California Lutheran University alumni. Nominations for awards in the five categories listed below are welcomed from all members and friends of the Cal Lutheran community.
We look forward to receiving your nominations and recognizing the outstanding achievements of your fellow alumni.
Jim and Sue Swenson
Honorary Alumni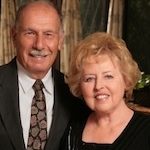 Jim and Sue Swenson are genuinely interested in helping people get an excellent education, and their generosity has made a tremendous difference in the lives of CLU students.
When Jim retired from running his own company, Details Inc., he and Sue turned their interest to philanthropy. A Lutheran pastor in Orange County introduced the Swensons to CLU, and Jim joined the Board of Regents in 1998.
One of the Swensons' first gifts to the University was to establish the Swenson Scholars program in 1998. This program awards scholarships that cover 50 percent of tuition and fees for outstanding Lutheran students from Orange County. Since the program began, the scholarships have helped 57 students. A second program, the Swenson Summer Science Internships program, was established in 2005. It has since provided summer science research experience for 67 students, funding 17 students each year.
The Swensons' generous contribution to CLU's first LEED-certified ("green") building, the Swenson Center for Social and Behavioral Sciences, marked a real turning point for the University. Completed in 2010, its additional office, classroom and laboratory space enabled professors to finally move out of the converted chicken coops that had been in use by the University for over 60 years.
With gratitude for their many, many contributions to CLU, the Alumni Association is pleased to name Jim and Sue Swenson as 2012 Honorary Alumni.