Sara Larcombe
Outstanding Young Alumni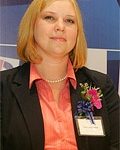 Larcombe works for Baskin-Robbins as Director of Marketing for Asia. Currently based in Canton, Mass., she coordinates with regional partners in developing strategic brand and integrated marketing campaigns. As director, Larcombe has had the opportunity to open stores in Shanghai and Xi'an, China; Kuala Lumpur, Malaysia; and Bangkok, Thailand. She is specifically focused on the company's further expansion into China. Having a position that entails a great deal of travel suits the marketing director who loves exploring new places.
Larcombe's favorite challenge is creating and naming the next Baskin-Robbins Flavor of the Month. In 2011, she plans to initiate an international partnership program between Baskin-Robbins and Avon to support breast cancer research.
While pursuing a bachelor's degree in communication at CLU, Larcombe held various leadership roles on campus, including Residence Hall Association President and Peer Advisor. She was selected by her fellow classmates as Student Leader and Senior of the Year in 2000. She served an internship with Baskin-Robbins while a student at CLU and was offered a full-time position after graduation. Her responsibilities have steadily increased over the years.