Janice Bowman Ph.D. & Rev. Gerald Swanson
Honorary Alumni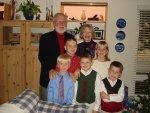 The CLU Alumni Association is proud to honor the Rev. Gerald Swanson, Campus Pastor Emeritus, and Dr. Jan Bowman, Professor Emerita, as 2007's Honorary Alumni recipients.
A graduate of Augustana College, Gerry was ordained in 1963, and came to Thousand Oaks in 1969 to become CLU's first full time pastor. College campus ministries were undergoing significant changes as the conflict abroad and a heated social climate at home set the national stage. In the midst of such change, Gerry was particularly influential in helping young people navigate the path to ministry. Gerry served as Campus Pastor until 1986 at which time he became Director of the Learning Assistance Center and was given the rank of Assistant Professor of English. He retired in 1999.
As a Professor of English at CLU, Jan helped develop courses in integrated studies, global studies, and women's studies. The impetus for these areas of research stemmed, in part, from her membership on various committees, boards, and task forces of the Evangelical Lutheran Church in America (ELCA), including the Peace and Justice Education Task Force and the Christian Faith and Liberal Arts Study Group. Jan spearheaded a networking and professional development group for young women called Creative Options. In the 1980s, she played an integral role in guiding CLU's curriculum changes which resulted in the incorporation of more reading and writing across all areas of study.
Gerry and Jan have three children, Mindy, Krister '89, and Karl '91.