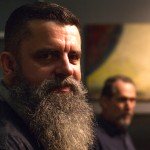 Michael J. Pearce, Ph.D., MFA
Professor
Office Hours: T / Th 3.30 - 6.00
Professor Michael Pearce joined the Art Department at CLU full-time in 2005 having previously served as an adjunct professor in 2001. He's an accomplished oil painter, installation designer, and an award-winning theatrical scenic designer. He says teaching painting and drawing to CLU students is the most rewarding job of his life.
He is passionate about figurative painting. In 2018 his "Secret Paintings" exhibit completed a tour that crossed the United States, gaining excellent reviews.
He founded and chaired The Representational Art Conferences, a series of events designed to provide an academic platform for the discussion of 21st Century representational art.
Between 2005 and 2016 Pearce was the curator of the Kwan Fong Gallery of Art and Culture, which under his direction hosted exhibits like Running with Scissors, The Man Show, The New Romantic Figure, and has shown works by a huge variety of artists including Jeremy Lipking, Mia Tavonatti, Cyn McCurry, Pamela Wilson, and of a broad range of genres, including the AIDS Quilt, photos from communist countries, installation art, and art by CLU's Art faculty.
Michael earned his undergraduate degree in theater from Dartington College of Arts and an M.F.A. in scenic design from University of Southern California. In October of 2007 his PhD dissertation "Vesica: Using Neolithic British Ritual Art and Architecture as a Model for Making Contemporary Art." was accepted by examiners at Plymouth University, England, who awarded the doctorate in 2008.
His research interests include: Imaginative Realism, Fantasy and Science fiction art, Emergence, Aesthetics, Alchemy, Prehistoric British Art and Architecture, Ritual symbolism, Renaissance symbolism and mysticism, British Antiquarianism.
He is author of Art in the Age of Emergence, a book about representational art in the 21st Century.
He is editor of "Kitsch and Beauty - the Proceedings of the Representational Art Conference 2014" and "The Real Snake - the Proceedings of the Representational Art Conference 2012"
Pearce is an art journalist, whose writing has been published in Fine Art Connoisseur, Spiked, American Art Collector, Mutual Art, Quillette, the Martin Center for Academic Renewal, TRACT, Artists on Art, Combustus Magazine and The Postmodern Times.