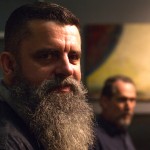 Michael J. Pearce, Ph.D., MFA
Associate Professor
Associate Professor Michael joined the Art Department at CLU full-time in 2005 having previously served as an adjunct professor in 2001. He's an accomplished oil painter, installation designer, and an award-winning theatrical scenic designer. He says teaching painting and drawing to CLU students is the most rewarding job of his life.

He is Chair of The Representational Art Conferences, a series of events designed to provide an academic platform for the discussion of 21st Century representational art.

Between 2005 and 2016 Michael was the curator of the Kwan Fong Gallery of Art and Culture, which under his direction hosted exhibits like Running with Scissors, The Man Show, The New Romantic Figure, and has shown works by a huge variety of artists including Jeremy Lipking, Mia Tavonatti, Cyn McCurry, Pamela Wilson, and a broad range of genres, including the AIDS Quilt, photos from communist countries, installation art, and art by CLU's Art faculty.

Michael's paintings are in the collections of: Oil heir Andrew Getty, Rap Mogul Percy Miller (Master P), movie director Jennifer Lynch, rapper Corey Miller (C-Murder), In Living Color creator Kim Bass, Superstar Snoop Dogg, The Carsey Werner Company, San Fernando Valley Historical Society, Bethlehem Lutheran Church, actor Shane Brolly, E.P. Graphics, director Alon Aranya, Skinny Puppy singer Kevin "Ohgr" Ogilvie, CLU Professor Sue Bauer.

Michael earned his undergraduate degree from Dartington College of Arts and an M.F.A. in scenic design from University of Southern California. In October of 2007 his PhD dissertation "Vesica: Using Neolithic British Ritual Art and Architecture as a Model for Making Contemporary Art." was accepted by examiners at Plymouth University, England, who awarded the doctorate in 2008.

Pearce's particular research interests include: Emergence, Aesthetics, Alchemy, Prehistoric British Art and Architecture, Ritual symbolism, Renaissance symbolism and mysticism, British Antiquarianism.