Sociology
Bachelor of Arts
Sociologists seek to understand how individuals interact with and are shaped by institutions, organizations, and cultures.
They investigate the underlying forces to show us the ways in which many of our personal troubles are rooted in larger social problems.
Gain perspective on a personal and global scale
You will receive rigorous theoretical and methodological training, gaining meaningful insights for understanding all levels of society—from the intimate micro-interactions of everyday life to the macro-dynamics of globalization.
Produce sociological knowledge
There are two required research method courses. Your professors will provide one-on-one mentorship while you conduct research on topics of your choice. You can then expand your projects into research papers and go on to present at local, regional, and national conferences.
Experience that matters—and makes a difference
Travel seminars and local field trips expose you to cultural diversity and transnational communities. This broadens your analytical perspectives and develops cross-cultural skills. In the Applied Sociology course, you will apply your knowledge and skills to solve social issues that are relevant to your internship with a non-profit organization or government agency.
A broad range of elective courses
Explore specific interests through elective courses covering topics such as:
Gender
Race and Ethnic Relations
Deviance in U.S. Society
Religion and Culture
Sexuality
Popular Culture
Immigration
Medical Sociology
Families and Intimate Relationships
---
Programs
Offered as a major (BA) and a minor.
Recommended Minors
Want to add even more value to your degree? Consider one of these minors to gain a unique combination of skills and perspectives.
Sociology and Political Science major Maria Reyes studies the identity construction of first-generation Latina college students, who are viewed as a new generation navigating the world between two different cultures and identities. With her research, Reyes aims to figure out how the American and Latin cultures are mixed and result in this distinct identity.
Maria Reyes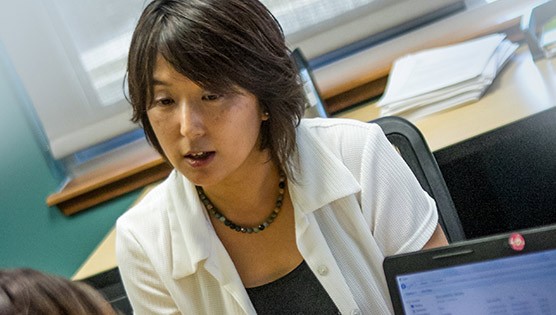 Qualitative social science research projects encourage students to get involved in social issues by offering a tool to analyze them and forcing the students to interact with those who are directly affected by the issues. Research projects help students develop skills, values and attitudes that cannot be easily developed in conventional class settings.

Akiko Yasuike
Associate Professor
Graduates are able to effectively evaluate social issues and understand social change. They employ the critical perspective and research skills they learned as sociology majors and feel empowered to make positive contributions in an increasingly diverse and global society.
Our alumni are well prepared for graduate study and professional work in sociology, social work, law, public health, non-profit management, teaching, and other fields that require the ability to think ethically and critically about a wide range of key issues.
Our alumni study at:
Boston University
California State University, Northridge
Cornell University
George Mason University
Golden Gate University Law School
The London School of Economics and Political Science
University of Barcelona
University of California, Davis
University of California, Los Angeles
University of Denver
University of Southern California
Vanderbilt University
Our alumni work for:
American Association of Retired Persons (AARP)
American Civil Liberties Union (ACLU)
Boys & Girls Club
Catholic Charities USA
Girls Incorporated
Human Rights Campaign
Lutheran Social Services
SAGE Publications
Symantec
University of San Diego
Career paths:
Counseling
Higher Education Administration
Human Resources
K-12 Teacher
Lawyer
Marketing
Non-profit Management
Public Health
Research
Social Work
of Cal Lutheran graduates find a job or enroll in graduate school within nine months
More Career Outcomes
Want to learn more?
Let us know and we'll send you information about our academics, campus life, admission process, and more!