Welcome Cal Lutheran Alumni
Congratulations, you did it! You've invested your time and effort into a hard-earned achievement that will give you lifelong rewards. Now that you're part of Cal Lutheran alumni network, let us help you expand your impact on the world by connecting you to the people and resources that will help you succeed. We're here for you!
Welcome to the Cal Lutheran Alumni family, a network 27,000 strong.
Stay In Touch!
Changing your address or email? Let us know so that you can receive event invitations, job opportunities, and more.
Join Us on Instagram
Use #clualumni when sharing photos of your post-graduation adventures so we can celebrate with you!
Join us on Instagram
Meet Your Class Reps
Your class reps will keep you informed and connected. Find out who they are and how to contact them.
Meet your class reps
Homecoming 2017
Save the date and join us for Homecoming this October 13-15, 2017. Food, fun, and friends—can't beat that!
Homecoming 2017
---
Golden Opportunities
A group just for young alumni, providing the opportunity to socialize, network, and reminisce about Cal Lutheran!
GOLDen opportunities
Follow the Flag
Wherever you go, take Cal Lutheran with you! Get a flag and share pictures of your world-wide adventures.
Follow the Flag
It's good to be a member!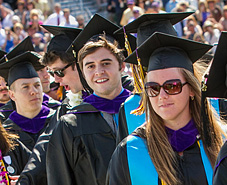 There are many benefits and services that Cal Lutheran provides for alumni. Here are the ways we can be of assistance to you:
Health Insurance
Career Services
Forrest Fitness Center Membership
Transcript Requests
Library and Database Access
CLU Magazine
Discounts on Car Rentals & Insurance
27,000+ Strong
The Cal Lutheran Alumni network is made up of everyone who has earned a degree from Cal Lutheran University, or has completed 24 units of study.
In addition, all persons selected by the Alumni Board of Directors for meritorious service to the university and alumni network are honorary members.
With a membership 27,000 strong, you'll discover connections for life.
You found your purpose here. Now it's time to live it!