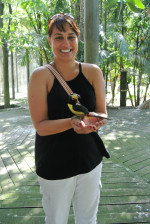 Anita Stone, Ph.D.
Associate Professor of Biology
She/ela/ella
About
Pronouns: She/ella/ela
A native of Brazil, Dr. Stone is a behavioral ecologist specializing in Neotropical primates. Her field research takes place in Eastern Amazonia, where she has studied the same population of squirrel monkeys since 2000. Dr. Stone is interested in primate life histories, social behavior and sexual selection, and actively integrates undergraduate students into her fieldwork.
Dr. Stone teaches Experimental Biology laboratory, Introduction to Ecology & Populations, Evolution, Primate Ecology, Animal Behavior, Biology of Sex & Gender and Scientific Literature.
When she is not at Cal Lutheran or chasing monkeys in the Amazon, Dr. Stone enjoys karaoke with her friends, and spending time with her Maine Coon cat, Floco.
Education
Post-doctoral fellowship, 2005-2007. University of California, Davis. Psychology (Animal Behavior)
Ph.D University of Illinois at Urbana-Champaign, 2004. Ecology & Evolutionary Biology
B.A. Oberlin College, 1996. Biology with minor in Psychology
Expertise
Behavioral ecology, primatology, evolution of social behavior, life history evolution.
Publications
Aghababian, S.C., Stone, A.I. and Brown, C. E. 2021. Is play sexually dimorphic in the polygamous squirrel monkey? American Journal of Undergraduate Research 18: 13-20.

Stone, A.I. and Williams, L. 2021. Behavioral biology of squirrel monkeys. In: Coleman, K. and Schapiro, S. J. (Eds). Behavioral Biology of Laboratory Animals, pp. 395-407. Boca Raton: CRC Press.
Stone, A.I. and Ruivo, L.V.P. 2020. Synchronization of weaning time with peak fruit availability in squirrel monkeys (Saimiri collinsi) living in Amazonian Brazil. American Journal of Primatology. DOI: 10.1002/ajp.23139
Stone, A.I. 2018. The foraging ecology of male and female squirrel monkeys (Saimiri collinsi) in Eastern Amazonia, Brazil. In: Urbani, B., Kowalewski, M., Cunha, R.T.G., de la Torre, S. and Cortes-Ortiz, L. (Eds). La Primatologia en Latinonamerica 2, pp. 229-237. Venezuela: Ediciones IVIC.
Ruivo, L.V.P., Stone, A.I and Fienup, M. 2017. Reproductive status affects the feeding ecology and social association patterns of female squirrel monkeys (Saimiri collinsi) in an Amazonian rainforest. American Journal of Primatology. DOI 10.1002/ajp22657
Stone, A.I. 2017. The Cebids. In: Fuentes, A. (Ed.) International Encyclopedia of Primatology, pp. 400-403. Hoboken NJ: Wiley-Blackwell.
Stone, A.I. and Conga, D.F. 2016. First assessment of helminth parasites in wild squirrel monkeys (Saimiri collinsi) in northeastern Pará State, Brazil. Neotropical Primates 23: 35-38.
Stone, A.I. and Silva Junior J.S. 2016. Collins' squirrel monkey. In: Rowe, N. and Myers, M. (Eds.) All the World's Primates, pp. 307-308. Charlestown: Pogonias Press.
Grant Funding
2022-2025. National Science Foundation. Collaborative Research: RUI: Signals of genetic quality and mate choice in squirrel monkeys. Role: Lead PI.