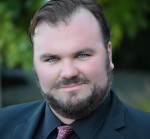 Bryan E Lane, M.M.
Adjunct Faculty - Voice
About
Bryan Lane is a performer with diverse tastes and abilities who desires to move his audiences on a deep level through honest performance of unique and varied repertoire. With interests in choral music, chamber music, and opera, Bryan is a full time member and soloist with the Los Angeles Master Chorale and has sung professionally with Seattle Opera, the Oregon Bach Festival, the Santa Fe Desert Chorale, Opera Santa Barbara, Seattle Early Music Guild, Colby College Collegium, and Areté Vocal Ensemble.
With a particular passion for Baroque and early music, Bryan has been privileged to study and perform with Benjamin Bagby and Sequentia Ensemble, Byron Schenkman and Ingrid Matthews, Jillon Dupree, and has coached with early music pioneers Stephen Stubbs, Nancy Zylstra, Julianne Baird, Gary Wedow, and Drew Minter. He has performed in early music festivals including the Vancouver Early Music Festival and the Amherst Early Music Festival Baroque Academy. He has performed early music locally with the LA Chamber Choir, Jouyssance Early Music Ensemble, and the LA Bach in the Subway project.
Bryan's experience in television and film includes his role as a principal actor and vocalist in the 2018 film "Lacrimosa" by director Arnaud Uyttenhove. He has sung on the soundtrack for the Netflix series "Altered Carbon", recorded studio vocals for JBL/Harman Professional Solutions and was proud to be a featured soloist in the sample library "Voice of Gaia: Bryn" with Soundiron Virtual Instruments.
As an active church/temple musician he is currently a soloist at San Marino Community Church in San Marino, CA and is engaged with Temple Stephen S. Wise in Los Angeles. He has held previous positions as Principal Cantor at Old Mission Santa Barbara, soloist at Epiphany Parish in Seattle, and All Saints-by-the-Sea in Montecito. Bryan holds a M.M. in Voice from U.C. Santa Barbara, an Artist Diploma in Early Music from Cornish College of the Arts, and a B.A. in Music from Westmont College. He is a member of the American Guild of Musical Artists and the National Association of Teachers of Singing.
Education
Artist Diploma in Early Music from Cornish College of the Arts
M.M. in Vocal Performance from University of California Santa Barbara
B.A. in Music from Westmont College