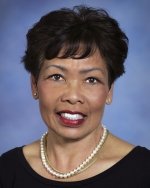 Penchusee (Penny) L. Cefola, Ph.D.
Associate Professor of English
Born in Thailand, Dr. Cefola received her B.A. (English) from Prasanmit College of Education in Bangkok and her M.S. and Ph.D. in Applied Linguistics from Georgetown University. She has taught Applied Linguistics and writing in Thailand, Korea, and China and is an active member of the American Association for Applied Linguistics (AAAL). She enjoys the atmosphere of a small university such as CLU, and as the founder and advisor of CLU's Asian Club and Friends, she has a special interest in motivating and encouraging minority students to strive for academic excellence. Dr. Cefola has just published a textbook, titled Let's Do Linguistics: Applied Linguistics for Language Teachers, which will be used in her linguistics and language acquisition classes.

B.A. in English, Prasanmit College of Education, Bangkok, Thailand. M.S. in Linguistics, Georgetown University, Washington, D.C. Ph.D. in Applied Linguistics, Georgetown University, Washington, D.C. University of California, Los Angeles, Summer Writing Project.

Applied Linguistics, ESL Teaching and Teacher Training, Writing.