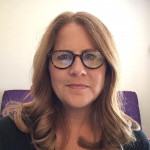 Celia Feramisco, MBA
Adjunct Faculty Member
About
Professor Feramisco has 25 years of successful marketing, marketing communication and advertising experience. She has worked with a variety of Fortune 500 companies within healthcare, automotive and technology industries, and earned several industry awards, including and In-Awe Medical Marketing Award, and a prestigious Effie Award.
Professor Feramisco began her career at advertising agencies in New York, San Francisco and Los Angeles. She later joined Amgen, the world's leading biotechnology company, and number 154 on the Fortune 500 list of world's most admired companies. In 2017, Professor Feramisco was featured on the Smithsonian Channel television documentary, "The Real Mad Men of Advertising," which was inspired by the real men and women of Madison Avenue who perfected the art of the sale and transformed American culture in the process.
Education
Celia Feramisco earned a Master of Business Administration degree (MBA) from Pepperdine University's Graziadio School of Business and Management in Malibu, CA, and a Bachelor of Arts degree (BA) from Hofstra University in Garden City, New York.