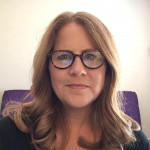 Celia Feramisco, MBA
Adjunct Faculty Member
Celia Feramisco has 25 years of marketing, marketing communication and advertising experience, working with a variety of Fortune 500 companies within healthcare, automotive and technology industries. Her professional background in the private sector includes strategic planning, launch leadership, joint venture collaboration, promotional implementation, and measuring results.

The first decade of Ms. Feramisco's career was spent at three award-winning advertising agencies. She first served as an account executive at Ammirati & Puris, the New York agency that invented BMW's well-known slogan, "The Ultimate Driving Machine." Ms. Feramisco's clients included BMW and UPS. Next, Ms. Feramisco moved to San Francisco to join Goodby, Silverstein & Partners, the agency that brought the discipline of strategic account planning to the United States and invented the popular "Got Milk?" campaign. GSP was named Adweek magazine's Agency of the Decade for the 1990s, and during that time, Ms. Feramisco focused on branding, strategy, and execution for her client, American Isuzu Motors. Once in Los Angeles, Ms. Feramisco joined Suissa Miller Advertising and led the SkyTel technology account (later acquired by Sprint). After a successful launch, she was asked to serve as the national Account Supervisor overseeing American Honda Company's Acura portfolio.

Most recently, Ms. Feramisco spent 15 years in marketing at Amgen, the world's leading biotechnology company, and number 154 on the Fortune 500 list of world's most admired companies (2016). During this time, Ms. Feramisco held numerous positions of increasing responsibility across oncology, bone health, inflammation, rheumatology, and dermatology therapeutic areas. She served as digital marketing and social media lead, led the commercialization of Amgen's first prescription medical device, led joint ventures with GE Healthcare and Wyeth/Pfizer, managed nurse call center operations, and developed customer relationship programs management (CRM).

In 2014, Ms. Feramisco decided to trade industry for academia in order to inspire the next generation of marketing leaders to thrive and grow.

Ms. Feramisco earned a Master of Business Administration degree (MBA) from Pepperdine University's Graziadio School of Business and Management in Malibu, CA, and a Bachelor of Arts degree (BA) from Hofstra University in Garden City, New York.