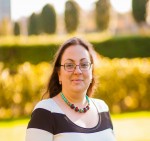 Gloria Macri, Ph.D
Adjunct Faculty Member
Office Hours: By appointment only
About
Dr. Gloria Macri teaches one of the Foundations of Advanced Academic & Professional Practices courses.
Since 2008 she has been teaching many courses ranging from core, introductory courses – such as Communication Theory, Introduction to Social Sciences and Research Methods - to courses – such as Cross-Cultural Communication and Globalization and its Discontents - which apply theories and complex concepts such as culture, race and ethnicity to explore communities and various social issues and processes in a wide range of social contexts.
Furthermore, Dr. Macri has more than fourteen years of research experience working in very diverse settings such as research institutes, academic institutions, advertising agency as well as nonprofit organizations. In most of these instances she was involved in every stage of the project from the planning and design of the methodology to its implementation, data collection, reporting and evaluating the findings. She is very experienced in designing and using a wide range of quantitative and qualitative research methodologies and techniques for data analysis including statistical procedures (using mainly SPSS and Excel software); content analysis and thematic analysis.
Education
PhD (Doctor of Philosophy), School of Communications, Dublin City University (Ireland), 2012
MA in Social Policies of Development, Faculty of Sociology, University of Bucharest (Romania), 2004
BA in Sociology, Faculty of Sociology, University of Bucharest (Romania), 2002
Expertise
Research methods - qualitative and quantitative methodologies and tools for data collection and analysis,
Intercultural communication,
Race, ethnicity, diaspora,
Cultural identity,
New media/Internet,
Dissertation support and student advising,
Community development,
Nonprofit organizations - writing funding applications, managing grants and organizing fundraising events
Grant Funding
2008 – 2011 – Scholarship awarded by Government of Ireland IRCHSS (Irish Research Council for the Humanities and Social Sciences) Scheme for the completion of my PhD research. Value: 48,000 EUR (over 61,000 USD)

2011 – Dublin City University Postgraduate Research Travel Grant. Value: 500 EUR (over 630 USD)

2007 – 2008 – Dublin City University Scholarship offered by the Theme Leaders Office – Migration and Integration Program. Value: 20,000 EUR (over 25,400 USD)

2007 – Grant obtained from The Community Foundation of Ireland. The grant was obtained for the Romanian Community of Ireland. Value: 2,500 EUR (almost 3,200 USD)

2005-2006 – Fáilte Ireland (Irish National Tourist Authority) research scholarship Value: 10,000EUR (over 12,700 USD)