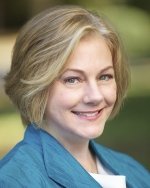 Elizabeth Jetton, CFP®
Senior Adjunct Faculty Member
Elizabeth Jetton, CFP ®, is a principal with RTD Financial Advisors, a nationally prominent independent financial life planning and investment management firm. In addition, she has a coaching and consulting practice, helping financial planners and firms develop their services, presentation skills and client care processes. Elizabeth has worked in the financial services industry since 1981 and became a Certified Financial Planner® professional in 1991.

Jetton served as President of the Financial Planning Association in 2004 and Chair of the FPA in 2005. In that year the FPA filed a lawsuit against the Securities & Exchange Commission challenging the Broker-Dealer Rule. The FPA won the suit in 2008. In addition, she testified before the House Finance Subcommittee regarding harmful practices by certain firms aimed at military personnel, particularly the young and new recruits. The inquiry resulted in important improvements and protections for military personnel.

Jetton is a frequent keynote speaker throughout the country and internationally. Her topics focus on Financial Life Planning; Total Resource Planning; Planning for the Third Age of Life; The Future of Financial Planning; Client Care; The Annual Renewal Meeting; Delivering a Great Meeting and The Art and Science of Financial Planning.

In 2006, Jetton founded the Public Issues Group within FPA as a research and think tank advisory group designed to highlight and identify trends and the impact of public policies, as well as to shape public policy and engage in scenario planning to prepare for future financial issues that will impact the public's financial well-being. Currently she serves on the Academic Advisory Group at FPA and also the Financial Planning National Support Center task group, which oversees the FPA's consumer outreach, pro bono and underserved public outreach programs.

In April of 2009, she was a guest lecturer for the TIAA CREF Institute on Life Planning Issues for Retirees in a Time of Economic Crisis. She was part of a group of leading professionals convening a multi-disciplinary gathering in June 2009 at Gold Lake, Colorado, on The Future of Money and the Financial Planning Profession.

Listed as a "Mover & Shaker in the profession" by Financial Planning Magazine, January 2005.
"The 150 Best Financial Advisers for Doctors" for the past four annual listings by Medical Economics magazine.
Honored as Outstanding Financial Planner and Leader in the Profession by the FPA of Georgia, 2007.
Adjunct professor: Hofstra University 1992-1993; Expert Faculty: California Institute of Finance, California Lutheran University presently; Guest Lecturer: Financial Planning MBA at Georgia State University 2005-present; Mentor and Lecturer at the FPA Residency Program 2000 - present, including Denver College, UCLA Extension Program, Texas Tech University Financial Planning PhD program, College for Financial Planning.
Consistently ranked as one of the top speakers and workshop leaders at professional conferences nationwide
Featured on the NBC Nightly News, CNN, CNBC and Lifetime Television, as well as in the Wall Street Journal; Washington Post; LA Times; San Francisco Chronicle and The Atlanta Journal & Constitution, as well as in magazines including: Time Magazine, Money, Real Simple, Red Book, Pink, Glamour, Parents, Smart Money, More, Working Mother, the Journal of Financial Planning, Financial Advisor, Solutions and New Choices.
Published articles in Solutions Magazine, India Journal of Financial Planning, Aging Well Magazine, Inside Money blog, Journal of Financial Planning; TIAA CREF institute Publications.