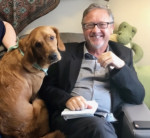 Eric B Kinsley, DMA
Senior Lecturer
About
Eric Kinsley is a performing artist, recording artist, writer, and educator. Eric pursued his Doctorate degree at the Manhattan School of Music under the mentorship of Dr. Kenneth Cooper. He has been a member of the New York Contemporary Music Band, Pacific Classical Winds, and the Manhattan Chamber Orchestra. He has received grants in early and contemporary music from The National Endowment of the Arts, New York Harpsichord Society, and the Sylvia Marlow Foundation.
He has performed and recorded at the Discoteca Di Stato in Rome. In addition he has broadcast on Public Radio and television. He has worked with and performed premieres of the music of John Cage, Milton Babbitt, Morton Feldman, Steve Reich, Miguel del Aguilla, Andrea Tabacchi, Libby Larson and Steven Mosko. He has recorded works by JS Bach on Centaur label. He has also recorded works for duo portative organ.
Eric serves as the Director of Music and Organist at Saint Patrick's Episcopal Church in Thousand Oaks.
Publications
Mellen Books by: Eric Kinsley
Franz Joseph Haydn's Divertimanto with variations for Harpsichord Four Hands, Violin, and Violone
Le Nuove Musiche Performing Editions: Edited by Eric Kinsley

CPE Bach, Quartet in G Major for Keyboard (harpsichord), Flute, and Viola, Wq 95 (H538) Vol. 1
CPE Bach, Quartet in D Major for Keyboard (harpsichord), Flute, and Viola, Wq 94 (H538) Vol. ll
FJ Haydn, Il maestro e lo scolare, Divertimento Hob. XVlla:1X For: 2 Harpsichords, Two Violins and Violone