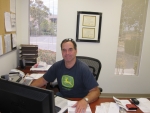 Edgar A. Terry, MBA
Senior Adjunct Faculty Member
About
Edgar Terry is engaged in vegetable and strawberry production with his family company Terry Farms, Inc. Terry Farms, Inc. produces various vegetable and strawberry crops on 2,000 +/- acres in Ventura County, California. Also, he is a Senior Adjunct Professor at California Lutheran University where he teaches finance in the Degree for Professionals Evening Program and the Master of Business Administration Program.
Current Boards & Committees:
Past Boards:
Farm Bureau of Ventura County 1996-2007 (President 2001-2003)
Hanson Trust Advisory Board – (Part of the U.C. System 2004 – 2010)
Leavens Ranches Executive Committee-2007-2013 (Chairman Executive Committee-2012)
District 63 Umpire Association (CFO 2006-2013)
Farm Credit West 1992-Present (Chairman of the Audit Committee 1995-2010)
Farm Credit West 2010-Present (Chairman of the Board 2010-2013)
Farm Credit West 2013-Present (Member of the Enterprise Risk Management Committee)
Work Experience:
Terry Farms, Inc. 1982 – 2013 (President and CFO 1990-Present)
California Lutheran University 1987 – 2018 (Senior Adjunct Professor in Finance) http://www.callutheran.edu/directory/search/index.php?query=edgar+terry
Education
B.S. CLU 1981
MBA CLU 1983
Premier Goverance Program. 2010 (Board of Director Advanced Training)
NACD Board Leadership Fellow Designation 2012 to Present.
Expertise
Agricultural Issues
Financial Analysis