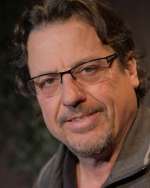 David Grannis, M.F.A.
Associate Professor
grannis@callutheran.edu
(805) 493-3366
202 Spies-Bornemann Center for Education & Technology (SBET)

About
David Grannis M.F.A., is an Associate Professor and the former Director of the Film and Television Program at California Lutheran University. David Grannis is one of the founders of the Film and Television Program at CLU. He served as Director of Service-Learning at CLU from 2017 - 2022. He is also the founder of the CLU Annual Film Festival which just celebrated it's 25th year.
Before coming to Cal Lutheran, he worked as a sound editor for Hollywood feature films. His sound editing credits include films such as What About Bob, Sister Act and Mississippi Burning. Before becoming a tenured faculty, he served as the Director of Educational Technology at Cal Lutheran.
Judge for the Television Academy Foundation's internship program and student Emmy's 2012 - 20123.
Proudcer/Director - Turf Wars: SoCal Water Conservation. Combat Drought Productions © 2017.
DET/CHE (Directors of Educational Technology for California Higher Education)
Southern California Regional Director, Vice President 2006, President 2007 and Past President 2008
Board member for Moorpark Community College Film/TV Advisory Program.
Board member for ETC Channel 21, Conejo Valley's educational television station.
Education
MFA, Theater Arts, Film Television Production program, UCLA, CA. 1987
BA, English and Media Studies, Sonoma State University, CA. 1978
Publications
"Breaking into Acting for Dummies" Technical Editor, 2nd Edition, 2022
"Turf Wars, So. Cal Water Conservation," (43 min.) Water War Films, Combat
Drought Productions © 2017
A film by David Grannis
"Ethics in Broadcast Television News: Blurring the Lines," Real World Media Ethics, Inside the Broadcast Industries. Second Edition, Philippe Perebinossoff, 2017, Taylor & Francis, A Focal Press Book