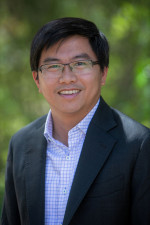 Dan Hieu Vo, Ph.D.
Assistant Professor, Business Administration, Entrepreneurship
Office Hours: By Appointment
About
Dr. Dan H. Vo joined the School of Management at California Lutheran University (CLU) in the Fall of 2018 as an Assistant Professor of Entrepreneurship. Prior to joining CLU, Dan was an assistant professor of Business Administration at Hartwick College – a liberal art College in upstate New York, where he was also the director of the Baker Simpson Entrepreneurship Program and the founder and academic advisor of Hartwick College's Investment Club. Prior to that, Dan was a Research Fellow at the Sauder School of Business, University of British Columbia. He was also a member of the 2013 NBER Entrepreneurship Research Boot Camp.
As a huge believer of experiential learning, Dan works diligently in bringing real-life experiences and practical applications to his classes through a variety of activities ranging from guest speaker series to case discussion to projects with local businesses. These activities provide a seamless integration of theoretical frameworks and practical applications of those frameworks. Under this belief, Dan has developed and taught a variety of courses in the area of entrepreneurship, finance, and microeconomics.
Dan also deeply involves in academic research. His area of expertise is entrepreneurship with a special focus on entrepreneurial finance. Dan is currently working on several projects that explain how angel investors and venture capitalists finance early-stage ventures. His research emphasizes on the interplay between financial resources and strategic objectives pursued by both the investors and the entrepreneurs. He presented at both regional and national conferences. He is an active member of the Academy of Management, Financial Management Association, US Association for Small Business and Entrepreneurship. Dan published in the Journal of Small Business Management and have several papers under review at Financial-Times-50 journals.
Dan received his Ph.D. in Economics with special focus in entrepreneurial finance from the University of Victoria in 2013. He was a Research Fellow at the University of British Columbia. He is fluent in English and Vietnamese.
Education
Post-doc Research Fellows, University of British Columbia
Ph.D. in Economics, University of Victoria
Expertise
Entrepreneurship, Entrepreneurial Finance, Finance, Applied Micro-Economics
Publications
Hellmann, TF, Schure, PH, Tergiman, C, Vo, DH. (2019) "Ownership dynamics within founder teams: The role of external financing", Strategic Entrepreneurship Journal. Vol. 13, pp. 256– 87. https://doi.org/10.1002/sej.1328
Engineer, Merwan H., Paul Schure, Dan H. Vo (2019), "Hide and Seek Search: Why Angels Hide and Entrepreneurs Seek", Journal of Economic Behaviror & Organization, Vol. 157, pp. 523-40., https://doi.org/10.1016/j.jebo.2018.10.007
Vo, Dan H. (2018), "Patents and Early Stage Financing: Matching versus Signaling", Journal of Small Business Management, Vol. 57, pp. 1252 - 79. https://doi.org/10.1111/jsbm.12414.
Vo, Dan H. (2019), "Patents not the key to attracting investors". Pacific Coast Business Times. Available at: https://www.pacbiztimes.com/2019/04/12/vo-patents-not-the-key-to-attracting-investors/