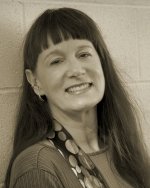 Larkin Higgins, M.F.A.
Professor of Art
In addition to teaching courses in painting, drawing and interdisciplinary arts, Professor Higgins is a cross-disciplinary artist who actively exhibits and publishes her work. She has had solo shows at the University of Wisconsin, Harvard University (Dept. of Visual & Environmental Studies), University of California (Los Angeles), Counterpath Gallery (Denver), BC Space (Laguna Beach) and other venues. Her work is in the permanent collections of the Hammer Museum/Grunwald Collection, Erie Art Museum (Pennsylvania), Laguna Beach Museum of Art, California Museum of Photography, Special Collections/UCLA Charles E. Young Research Library, Avant Writing Collection/The Ohio State University Libraries (Columbus), Judith A. Hoffberg Archive (Library of the University of California, Santa Barbara), The State University of New York at Buffalo (University at Buffalo Libraries, Special Collections), the International Museum of Collage, Assemblage, and Construction, and elsewhere.

Higgins' text/image-based art can be found in various forms such as paintings/drawings, visual poetry, artists' books, book sculptures, installation, collage, mail art, photo-related works, and performance art as reviewed/published in THE BOSTON GLOBE, THE LOS ANGELES TIMES, ANTIQUES & THE ARTS WEEKLY (New York), GENRE, ARTWEEK, and L.A. WEEKLY, among others. University of Iowa Press and other publishers have anthologized her poetry. DIAGRAM, BEYOND BAROQUE MAGAZINE, NATIONALPOETRYMONTH.CA 2016, and FRE*QUEN*CY: THE POETHICS OF CHANGE (Naropa Press) also have included her poetry. Higgins has a special interest in word-image connections. Her visual poetry is published in VISIO-TEXTUAL SELECTRICITY (Runaway Spoon Press), ELEVEN ELEVEN (California College of the Arts), YELLOW FIELD, OTOLITHS, NOTRE DAME REVIEW, and THE L.A. TELEPHONE BOOK, VOL. 1, and VOL. 2. and also has been exhibited at Skylab Gallery (Columbus, Ohio), New Puppy Gallery (Los Angeles), Counterpath Gallery (Denver) and Otis College of Art and Design. Higgins' OF MATERIALS, IMPLEMENTS (Dusie Kollectiv) and c o m b - i n g m i n e - i n g s (Dusie Kollectiv) are combination artist books and poetic chapbooks. OF TRAVERSE AND TEMPLATE (Mindmade Books) interweaves logographic drawings with poetic text.

Strongly believing in experiential learning, she has traveled to China, Japan, Hong Kong, Nicaragua, Honduras, Costa Rica, Mexico, Vietnam, Indonesia, Thailand, Czech Republic, Hungary, Italy, France, Germany, and Ireland. Higgins sees herself as an "eternal student of life" and loves teaching the possibilities of art.

Throughout the years, Higgins has created performance art-based works, as solo and in ensemble. These have been presented at venues such as Highways Performance Space (Santa Monica, Calif.), The World Stage (Los Angeles), Occidental College, BC Space Gallery, and Counterpath Gallery (Denver, Colo.)--the latter piece documented in EMERGENCY INDEX, VOL. 4 (Ugly Duckling Presse). She has also been invited to give poetry readings at venues such as: Shakespeare & Company (Paris), Beyond Baroque (Venice, CA), Outer Space Gallery (Chicago), Rhapsodomancy Reading Series (Los Angeles), Vroman's Bookstore (Pasadena), Skylight Books (Hollywood), Counterpath Gallery (Denver), Jose Drudis-Biada Art Gallery (Mount St. Mary's College, Los Angeles), Occidental College (Los Angeles), Chapman University (Orange, CA), New Orleans Poetry Festival, and the &NOW Festival of Innovative Writing & Art (University of Notre Dame).

In southern California, Professor Higgins has exhibited in group shows at spaces such as: Armory Center for the Arts (Pasadena), Avenue 50 Studio Gallery (Highland Park), dA Center for the Arts (Pomona), Sam Francis Gallery (Santa Monica), L.A.C.E. (Los Angeles Contemporary Exhibitions), William Turner Gallery (For Venice Art Walk), and Brand Library Art Galleries (Glendale). And in other gallery spaces, including: Whitebox Art Center (New York City), Erie Art Museum (Erie, PA), Houston Center For Photography, Siegfred Gallery (Ohio University), Ventura County Government Center, Boston Visual Artists Union Gallery, and Nisa Touchon Fine Art (Santa Fe, NM).

Higgins earned her M.F.A. from Otis College of Art and Design, M.A. from California State University, Fullerton, and B.A. from California State University, Long Beach.