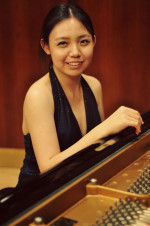 Hui Wu, D.M.A.
Adjunct Faculty - Collaborative Keyboard & Piano
About
Praised as "sparkling" by The New York Times and "a rising star" by China Musical Weekly, pianist Hui Wu has continued to display her versatility in a creative approach to programming which stems from a contemporary/classical music duality. Her recent performance highlights include west coast premiere of Merrill Songs by Matthew Aucoin; multimedia project with artists Nova Jiang and Gaëlle Choisne in collaboration with the Los Angeles CleanTech Incubator(LACI) and The Mistake Room, as well as chamber music appearances at the Beverly Hills National Auditions Winners' concert series.
In the past seasons, her performances have included solo recital tours and masterclasses in China and Germany. Other highlights included premieres in Los Angeles Philharmonic Composer Fellowship Concert at Disney Concert Hall; "Art as Activism" concert with Christopher Rountree and contemporary ensemble wild Up; debut of her "Lone Journey" multimedia project in collaboration with the USC Thornton Arts Leadership Program, in addition to chamber music appearances in China with violinist Rainer Honeck, Stefan Dohr, and Stefán Ragnar Höskuldsson. She has also been invited to perform at the opening night concert in the Tully Scope Festival in Lincoln Center, chamber music appearances with choreographer Zach Winokur and the Juilliard Dance Division, She has also performed Nick Didkovsky's Zero Waste for pianist and computer on Beyond the Machine 12.1 series at the Music Technology Center in Rosemary and Meredith Willson Theater. and at the celebration of the centennial of John Cage on the FOCUS! festival. Her performances have been broadcast live on WQXR 93.6 FM and KUSC 91.5 FM.
As an avid chamber musician, Hui has been invited to festivals such as at Taos School of Music, Yellow Barn Chamber Music Festival, Music Academy of the West, International Summer Music Festival in Goslar, Germany, PianoTexas Festival, and Beijing International Music Festival and Academy. She is the founder of ensemble demitasse and trio E'Toile. Her mentors and collaborators include Michel Beroff, Malcolm Bilson, Peter Donohoe, Peter Frankl, Margo Garrett, Joseph Kalichstein, Seymour Lipkin, Susan Narucki, Charles Neidich, Menahem Pressler, Gary Wedow, GuangRen Zhou, Robert McDonald, Michael Tree, as well as the Brentano, Borromeo, and the ShangHai Quartets among others.
An advocate of new music and a composer herself, Hui has performed and premiered numerous contemporary works by composers such as Matthew Aucoin, Du Yun, Huang Ruo, Chen Yi, Jeffrey Parola, Eric Nathan, Paul Chihara, and Elliott Schwartz among others. Hui has collaborated with Juilliard's Dance Division on her composition Simogatas for soprano and piano four hands. In addition, her Three Little Pieces for Orchestra (2011) was premiered by conductor Euntaek Kim and the Double Visions Orchestra. Her other compositions vocal and instrumental works have also been premiered and performed in New York, Los Angeles, and in China. Recently, she premiered her Aprés Notations (2015) to pay tribute to Pierre Boulez and That Light In My Dream (2017) at the 2017 unSUNg project with soprano Kyra Folk-Farber.
Born in China, Hui started her musical training at the age of four. At the age of thirteen, she made her debut recital in GuangDong Concert Hall with 12 Chopin Etudes and Liszt Rhapsodies. She has won numerous competitions including first prizes in the Kosciuszko Chopin Competition in New York, the Murray Dranoff International Artists Competition in Miami, the Beverly Hills National Auditions, and the 65th Steinway International Piano Competition. Hui has also won top prizes in the Ettlingen International Competition in Germany, the Corpus Christi International Competition, Ryoichi Sasakawa Young Leaders Fellowship Fund Award, Young Artists Concerto Competition in Texas, the National Youth Piano Competition of GulangYu International Piano Art Festival and the Golden Clock Piano Competition in China.
Hui studied at The Juilliard School for her Bachelor and Master's degrees with full scholarship. She earned her Doctor of Musical Arts degree at the University of Southern California Thornton School of Music. Her teachers include Matti Raekallio, Jerome Lowenthal, Stewart Gordon, Philip Lasser, and Donald Crockett. Hui is a frequent adjudicator in music competitions in the US. Currently, she serves on the faculty at The Colburn School, Moorpark College, Cal Lutheran University, and Junior Chamber Music.
Education
D.M.A., Piano Performance, University of Southern California, Thornton School of Music
(Areas: Music Education, Composition, and Arts Leadership)
M.M., Piano Performance, The Juilliard School
B.M., Piano Performance, The Juilliard School
Publications
• Conversations with Pianist Seymour Lipkin (I). Piano Artistry, no.4 (April 2012) : 4-8
• Conversations with Pianist Seymour Lipkin (II). Piano Artistry, no.5 (May 2012) : 6-12