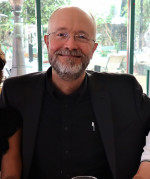 James Arthur Bond, Ph.D.
Associate Professor of English
James Arthur Bond earned his Ph.D. from Indiana University, where he was the recipient of the William Riley Parker Teaching Award. Dr. Bond has considerable expertise in the areas of writing theory and pedagogy, nineteenth-century literature and periodicals, literacy and print culture studies, the Vietnam War in literature, children's literature, and English education. He is also a trained musician, and has drawn extensively from that training in both his teaching and scholarship. His early research focused on the literacy and literary practices represented in prominent nineteenth-century periodicals, including the Century Magazine, Scribner's Magazine, and the Strand. He has published four scholarly articles and several book reviews from that research. He is engaged in an extensive scholarly project that explores the interdisciplinary and interpretive contexts of the music of composer Morten Lauridsen. His first article from that project was published in the September 2018 number of the Choral Journal; he is currently writing a book-length study of the composer's music and life.
Ph.D., English (Program in Language, Literature, and Literacy Studies), American Studies minor, Indiana University, 1999. M.A., English, Indiana University, 1990. B.S., Teaching Major in English (Secondary Certification), Ball State University, 1987, with significant training in music performance.
African-American literature; American literature and culture, 1865-1950; History of choral music; Periodicals and publishing history; Children's literature; Composition theory and pedagogy; Literacy and print culture studies; Literature of the Vietnam War; English education.