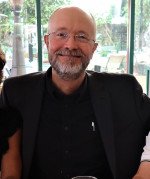 Jim Bond, Ph.D.
Associate Professor of English
Dr. Jim Bond earned his Ph.D. from Indiana University, where he was the recipient of the William Riley Parker Teaching Award. Dr. Bond has considerable expertise in the areas of writing theory and pedagogy, American literature and periodicals, literacy and print culture studies, the Vietnam War in literature, children's literature, and English education. He has published two articles on prominent nineteenth-century periodicals for the multi-volume project _American History through Literature, 1870-1920_ (Scribner's, 2006), several book reviews, and a scholarly article on the _Century Magazine_ for _American Periodicals_. He is currently working on a life writing project that explores the interdisciplinary and interpretive contexts of the music of choral composer Morten Lauridsen. Dr. Bond is a past Reader for the AP English Language and Composition Exam, and a Senior Reviewer for the AP Course Audit.

Ph.D., English (Program in Language, Literature, and Literacy Studies), American Studies minor, Indiana University, 1999. M.A., English, Indiana University, 1990. B.S., Teaching Major in English (Secondary Certification), 1987.

African-American literature; American literature and culture, 1865-1950; American periodicals and publishing history; Children's literature; Composition theory and pedagogy; Literacy and print culture studies; Literature of the Vietnam War; English education.