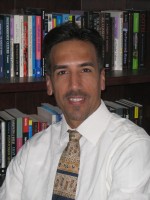 Jonathan Cordero, Ph.D.
Assistant Professor of Sociology
As a cultural sociologist, Jonathan Cordero studies aesthetics in contemporary culture, social geography, and contemporary California Indian identity. As an ethnohistorian and Native Californian, Jonathan studies California Indians during the Spanish Colonial and Early American periods.

He teaches courses in social theory, culture, and racial and ethnic relations.

Ph.D., Sociology, University of California at Santa Barbara.

2015 "Native Persistence: Marriage, Social Structure, Political Leadership, and Intertribal Relations at Mission Dolores, 1777-1800. Journal of California and Great Basin Anthropology (forthcoming)

2013 "White Girls for Red Lights: The Procurement of American and European Girls for the Purpose of Prostitution in San Francisco, 1860-1900." Journal of the West, Winter.