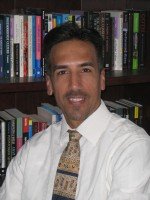 Jonathan Cordero, Ph.D.
Assistant Professor of Sociology
As a cultural sociologist, Jonathan Cordero studies aesthetics in contemporary culture and studies social geography. As an ethnohistorian and Native Californian, Jonathan studies California Indians during the Spanish Colonial and Early American periods.
He teaches courses in social theory, religion, culture, and racial and ethnic relations.
Ph.D., Sociology, University of California at Santa Barbara.