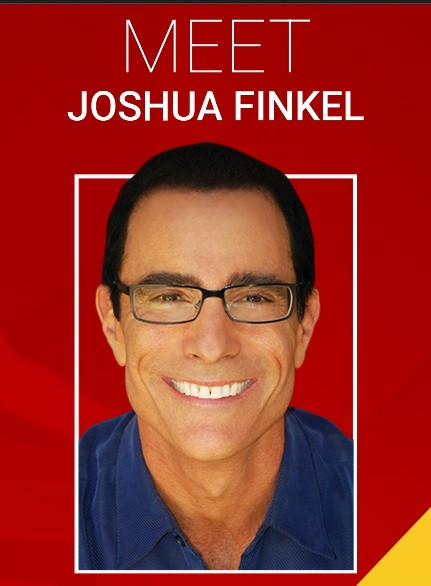 Joshua Finkel, MFA
Senior Adjunct Faculty Member
Office Hours: Tuesdays and Thursdays 12:15pm-1:15pm on Zoom by Appt.
Joshua Finkel (Director / Choreographer / Acting Coach / Actor)

Joshua is a director, choreographer, classically trained actor and acting coach. He has his BA from UC-Irvine and his MFA in Classical Theater from Professional Theatre Training Program at University of UW-Milwaukee which relocated to the University of Delaware. He has directed everything from industrial film to live stage performance and is no stranger to bringing new works to life.

DIRECTING / CHOREOGRAPHING: Joshua is scheduled to mount his production of NEXT TO NORMAL for P3 Theatre Company in Long Beach opening in June of 2021 and looks forward to having his production debut the new Long Beach Performing Space of P3 Theatre Company. Recently, Joshua mounted the hit production of DAMES AT SEA at the beautiful Sierra Madre Playhouse. In addition, Joshua won the "Pick of the Fringe" Award at the Hollywood Fringe Festival 2017 for directing his project THE WEDDING NIGHT, a new short musical with music by Game of Thrones Orchestrator and Composer, Stephen Coleman. The new Cast Recording of THE WEDDING NIGHT is available on CDBaby; plus Joshua is currently working with the creative team to developing the Czech Musicals show slated to debut at the rescheduled Hollywood Fringe Festival in October 2020. www.czechmusicals.com . Joshua made his NY directing debut when bringing the sold out cabaret act he co-created, directed and choreographed to Feinstein's 54 Below: TOGETHER AT LAST starring Broadway teen performers Jaidyn Young and Emma Howard (The Beguiled with Elle Fanning and Nicole Kidman, and Transparent.) We are scheduling further performances in NY and SF.

In 2015, Joshua received rave reviews, Broadway World award noms., and a Best Director "Scenie" Award from Stage Scene LA for his Los Angeles County Premiere Production of VIOLET the Musical at the El Portal Theatre in North Hollywood produced Kelrik Productions.

Also, Joshua directed acclaimed and VC award winning productions of THE FANTASTICKS as well as a brave new concept for the hysterical show A FUNNY THING HAPPENED ON THE WAY TO THE FORUM for Panic! Productions in Thousand Oaks.

In Film, Joshua starred in and choreographed both seasons of the webisode series DATING IN THE MIDDLE AGES and additionally starred in the short film HUCKLEBERRY DREAMS opposite Emmy and Tony award winner Robert Morse. In 2022, Joshua is slated to direct the Romantic Comedy Feature, LOVE'S FAIRE GAME for MJR Films starring Ethan Peck.

A master of Cabaret Act creation, Joshua was thrilled to direct, choreograph and co-create the Broadway World Nominated best Cabaret Performance of "diffiCult to leave" starring ROSLYN COHN which you can see on YouTube. Joshua also recently co-created and directed/choreographed a wonderful original act for his client PAUL WONG called SIMPLY SINGING SONDHEIM…ALMOST. Plus he helped his client MONA KING craft a wonderful theatrical one woman show using the beautiful song cycle by Maury Yeston, DECEMBER SONGS which is also available on CD Baby and ITunes. He offers his popular CREATING AND PERFORMING YOUR ORIGINAL CABARET ACT MASTER CLASS in addition to 5 other master classes in rotation and can bring any of his master classes to your group, school or theater.

Mr. Finkel's Los Angeles premiere production of THE SPITFIRE GRILL at the Actors Co‐op in Hollywood earned an Ovation Award nomination, and his production of LES MISERABLES at Hamilton Academy of Music earned Joshua the dance captain and cast position in the production at the HOLLYWOOD BOWL where he assisted director Richard Jay Alexander in mounting the show, in which he also starred as Bambatebois and Claquesous opposite Brian Stokes Mitchell, Melora Hardin, Jersey Boys' John Lloyd Young and Glee's Lea Michelle.

Additionally, Joshua directed the San Francisco premiere of SONGS FOR A NEW WORLD (The Plush Room now Feinstein's 54 Below in SF), FALSETTOLAND (Phoenix Theater, SF), INTO THE WOODS (Scherr Forum, Thousand Oaks), PASSION AND THE PAIN: THE JOURNEY OF LOVE (Guildford School of Acting, London), and MACCABEAT (Theater League Festival of New Musicals.) Mr. Finkel directed the award winning ECO‐AWARDS NOMINEE VIDEO for Philips Corporation. A fun highlight in Joshua's career was starring in and choreographing the nationally televised AN EVENING WITH THE SEOUL POPS concert in Seoul, Korea.

As a creator of new work and a staff member of New Musicals Inc. in North Hollywood, Los Angeles' premiere place for new musical creation, Joshua just mounted the new musical THE BULLY PROBLEM at the Dreamworks ASCAP Festival of New Musicals with Stephen Schwartz in February 2018 and also at The Stages Festival of New Musicals in July 2017 and also helped to create and originate the role of Howard Kaplan in the new musical BAGELS!, about the invention of the original bagel making machine in the 1960's.

Joshua also directed and choreographed the multi-award winning musical A RING IN BROOKLYN at the Noho Arts Center in North Hollywood. The year prior, he helped develop then directed three new projects: the new musical TSARINA at the Grove Theater in Upland , and also choreographed LOVE BYTES co‐written by Glee's vocal coach, Roger Love and Ann Atomic's lead singer, Ann McNamee.

As an ongoing project, Mr. Finkel directs, choreographs and stars in the Hollywood Musical Revue

HOLLYWOOD REVISITED which features Broadway and Hollywood performers wearing and performing in legendary original Hollywood movie costumes. HOLLYWOOD REVISITED appears in various venues around the world including the Kravis Center in West Palm Beach, The Annenberg Theater in Palm Springs (featuring Richard Chamberlain), The Gallo Theater in Modesto plus headlining on Crystal Cruises' Film and Theater Cruise, which included Broadway star Karen Morrow. Upcoming performances of HOLLYWOOD REVISITED can be found on Joshua's website www.joshuafinkel.com as well as at www.hollywoodrevisited.com

ACTING COACH: Joshua is also a renowned acting coach and teaches out of his private studio, the Creative Combustion Acting Studio in Studio City where he is currently running a very successful series of classes he's created called the DIRECTOR AUDITION PANEL MASTER CLASSES. In these series of classes, Joshua preps a small group of only 8 actors to meet, work with and build a wonderful personal relationship with top Directors, Casting Directors and Agents in Los Angeles. Check out his Joshua Finkel's Director Audition Panels Promo Videos on YouTube. In addition, Joshua has created acting training curricula and Master Classes at California Lutheran University in Thousand Oaks, AMDA in Hollywood, The Young Americans College in Corona, and at the Academy for New Musical Theatre, The Spotlight Awards for the Music Center, YAE in Thousand Oaks, and the Actors Centre in London.

He also is a renowned College Audition Coach and has clients in all of the best programs in the USA. He loves helping high school seniors build and prepare their entire audition package for the best Theater Programs in the country.

At New Musicals Inc., Mr. Finkel co‐created and directed the Academy Repertory Company (ARC), the ANMT Performers' Workshop, and currently directs and runs ACTOR MASTERCLASS SERIES.

ACTING:

An accomplished Broadway and Hollywood actor, Joshua is a proud member of Musical Theater Guild. Among his numerous acting credits, Joshua starred on Broadway and in London as Molina in KISS OF THE SPIDER WOMAN opposite Chita Rivera and Vanessa Williams (7 TONY Awards); then went on to win Scenie and Broadway World awards starring as Molina at the Alex Theater in Glendale and twice in India. Joshua received rave reviews as Thenardier " the Master of the House," in LES MISERABLES in the Original Los Angeles Production and then on the National Tour, He starred as Tybalt in ROMEO AND JULIET directed by Tony Award winner Bartlett Sher opposite Hamish Linklater as Romeo, and played The Painter in AMOUR at the Goodspeed Opera house directed by Tony Award Winning Team of Gentleman's Guide to Love and Murder, Darko Tresnjak and Peggy Hickey and played MAN #2 in GENTLEMAN'S GUIDE TO LOVE AND MURDER at the Tuachan Center for the Arts directed by Peggy Hickey. He has played Eddie Ryan opposite Judy Blazer and Michael Nouri in FUNNY GIRL at Robert Redford's Sundance Complex in Utah and starred as Uncle Louie in LOST IN YONKERS opposite the late Erin Moran from Happy Days.

Joshua recently received another VC and Scenie award as Leo Frank in PARADE at the Hillcrest Center for the Arts, as well as starred as the enigmatic lyricist from A CHORUS LINE, Ed Kleban in A CLASS ACT at the Alex Theater which received rave reviews.

Joshua's voice can be heard on the Original Cast Recordings of KISS OF THE SPIDER WOMAN, BARK! as Ben, and as the voice of ARTSCENE VISUAL RADIO on ARTSCENECAL.com. In Film and Television Joshua has starred opposite Bruce Willis, Marcia Cross, Kathleen Quinlan, Kalista Flockhart, and Jill Clayburgh to name a few, in such projects as THE KID, ALLY McBEAL (Emmy award), FAMILY LAW, and DESPERATE HOUSEWIVES.

However his favorite film role was getting to create the Live Action Reference Footage as Prince Eric in Disney's animated classic THE LITTLE MERMAID. Joshua's interview about the process can be seen on the DVD Extras for the 25th anniversary Blu-Ray release of the film.

UPCOMING PROJECTS: Directing the feature film LOVE'S FAIRE GAME (working title) starring Ethan Peck produced by MJR Films. Directing NEXT TO NORMAL at P3 Theatre Company in Long Beach playing in June 2021. HOLLYWOOD REVISITED August 2020 at the Greystone Mansion, The Four Seasons in Hemet CA and more. www.hollywoodrevisited.com And the wonderful award winning shows the Czech Musicals slated to appear at the rescheduled Hollywood Fringe Festival in October 2020, plus you can listen to the new Cast Recording of the award winning Czech Musical, THE WEDDING NIGHT available on CDBaby.

In addition, Joshua has new film out playing opposite Steve Guttenberg in the new feature LOOKIN' UP, written and produced by Hollywood Legend Marvin Kaplan.

For more information about Joshua and upcoming projects, go to: www.joshuafinkel.com or www.ccactingstudio.com

Graduated Cum Laude with a B.A. in Theater from University of California-Irvine. M.F.A in Classical Theater from the University of Wisconsin-Milwaukee Professional Theatre Training Program (now located at the University of Delaware)

Training Actors of all levels and ages in Film, Television, Contemporary Theater, Classical Theater, Musical Theater, Cold Reading Technique. Also training Public Speakers in the technique of effective communication skills and presentation techniques.