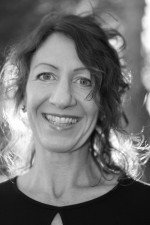 Jacqueline Lyons, Ph.D.
Associate Professor of English
Dr. Lyons' areas of expertise include creative writing, with emphasis on poetry and literary nonfiction; studies in poetry; world literature; literature by women; and critical reading and writing. She is the author of the poetry books Adorable Airport (Barrow Street Press), and The Way They Say Yes Here (Hanging Loose Press), and the poetry chapbooks Earthquake Daily (New Michigan Press) and Lost Colony (Dancing Girl Press). She has published poems and literary essays in national journals such as Bellingham Review, Colorado Review, Fourth Genre, The Journal, Quarter After Eight, Sonora Review and many others. She has received a National Endowment for the Arts Literature Fellowship in Poetry, a Nevada Arts Council Fellowship in Nonfiction, and Utah Arts Council Literary Awards in Poetry and Nonfiction. Her essay collection, Breakdown of Poses, was named finalist for the AWP Award Series in Nonfiction, and the Permafrost Book Prize in Nonfiction.
Doctor of Philosophy Degree in Literature & Creative Writing, University of Utah
Master of Fine Arts Degree in Creative Writing, Colorado State University
Bachelor of Arts Degree in English and Sociology, University of Wisconsin-Eau Claire
BOOKS
Adorable Airport (poetry), Barrow Street Press, 2018
Earthquake Daily (poetry), New Michigan Press, 2017
Lost Colony (poetry), Dancing Girl Press, 2009
The Way They Say Yes Here (poetry), Hanging Loose Press, 2004

POEMS IN LITERARY JOURNALS (SELECTED)
"Morning Quake", "Friday's Quake," "Sunday's Quake" (poems), Interim Vol. 34, Issue 3, 2017
"Epoch Quake", "Seven-Year Quake", "Second Quake Today" (from Earthquake Kit), Salamander, Spring/Summer 2017
"Adorable Airport (September Forever)", "Adorable Airport (let me now)", "Adorable (airport) Snow", Sugar House Review, Issue #12, Fall /Winter 2015
"Adorable airport" & "To Fall", Ocean City Review, 2013
"Because My Little Dog", Pleiades: A Journal of New Writing, 2012
"Not a Vague Province", Blood Orange Review, Vol. 5.2, 2010
"Heartland", The Journal, Issue 33.2, 2009
"One Winter", Barrow Street, Winter 2008
"1964", Hanging Loose, Fall 2008
"My Life in Quebec", Indiana Review, Winter 2007 (Winner of Indiana Review Poetry Prize)
"We say island..." and "The lavender as much as the bumblebee..." Colorado Review, Summer 2007
"Stages of Her Soft Eclipse", Interim, Vol. 22, No. 1 & 2, 2004
Selections from Lost Colony, Barrow Street, Summer 2003
Selections from Lost Colony, Bellingham Review, Issue 53, 2003
"How a Rushing Chooses Direction", Sonora Review, No. 44, 2003
"A Map..." & "Talking with Toka", Hanging Loose, No. 81, 2002
"The Magician's Wife" & "The Bull Rider's Wife", Southwestern American Lit., Vol. 27, No. 2, 2002
"The Dyer's Wife" & "The Miner's Wife", Calyx, Vol. 20, No. 2, 2001-02
"Reports," "Retsepile," & Speaking the Language", Phoebe, Vol. 30, No. 2, 2001
"Bus Stop, Lesotho," "Acclimation," "What I Burned," Hanging Loose, No. 79, 2001
"Roala", Many Mountains Moving, Vol. 4, No. 3, 2001
"Playing Scrabble in Lesotho" & "Translation...", Artful Dodge, Vol. 40/41, 2001
"Shoes for Africa" & "No One", Florida Review, Vol. 26, No. 2, 2001
"The Grave Digger's Wife," "The Miner's Wife," & "The Sailor's Wife", Primavera, Vol. 23, 2000
"Water Stories", Sonora Review, No. 37/38, 2000
"Xai Xai to Beira", Grain, Vol. 28, No. 2, 2000
ESSAYS IN LITERARY JOURNALS
"Too Silver for a Seam", The Journal, Issue 41.2, Spring 2017
"Over the Fluctuating Waves", the Southern Review, Fall 2015
"Look Out, Look Over, Look Past", Bellingham Review, Fall 2015
"With Danger, Opportunity", River Teeth, Vol. 16, No. 2, Spring 2015
"Rooted & Reaching", Fourth Genre, 2013
"At a Loss", The Normal School, 2013
"Down into Open", DIAGRAM, 2011
"Upward as in Head Below the Heart", Interim, Vol. 28, No. 1 & 2, 2010
"Where There Is No Doctor", The Normal School, 2009 (Nominated for Pushcart Prize)
"A Sort of a Map", AGNI, 2006
"World Enough and Time", Interim, 2006
"Arbiter of Twilight", Colorado Review, Fall 2004
"Too Nice", Chattahoochee Review, Vol. 23, No. 2/3, 2003 (Named Notable Essay in Best American Essays 2004)
"The Water Problem", Turnrow, Winter 2003
"Tough/Lustrous/Resistant to Corrosion", Quarter After Eight, Vol. 7, 2001 (Finalist, Experimental Prose Contest)
"Photograph of Sossusvlei", Puerto del Sol, Vol. 35, No. 1/2, 2000 (Nominated for Pushcart Prize)

ANTHOLOGIES
Oh One Arrow, Eds. Golaski and Klane, Flim Forum Press, 2007
Voices of the City, Eds. King, Russell, Carter and Hershon, Hanging Loose Press, 2004

CRITICAL WRITING
· "Participant in the Larger Force: Perception and Presence in the Poems of Donald Revell," (book chapter), Till One Day the sun Shall Shine More Brightly, Ed. Derek Pollard, University of Michigan Press, 2020
· Review of Gabriel Gudding's Literature for Nonhumans, Colorado Review, 2016
· Review of Brian Teare's Companion Grasses, Colorado Review, Fall 2013
· Review of Peter O'Leary's Phosphorescence of Thought, Colorado Review, Fall 2013
· Review of Elizabeth Anderson's Three Novels, Colorado Review, 39.3, Fall/Winter 2012
· Review of Biswamit Dwibedy's Ozalid, Colorado Review, 2011
· Review of Brandon Shimoda's The Alps, Colorado Review, 2009
· Symposium on poet Laura Jensen, Pleiades, 2008
· Review of Ellen Urbani Hiltebrands's When I Was Elena, Peace Corps Writers Website, 2006
· Review of Nick Flynn's Another Bullshit Night in Suck City, Colorado Review, Spring 2005
California Humanities Grant for Voices of the Nation three-part series on US Poet Laureates, 2020-21
CLU Hewlett Grants, 2014, 2015, 2017
CLU Faculty Research/Creative Work Grant, 2014
National Endowment for the Arts Literature Fellowship, 2003