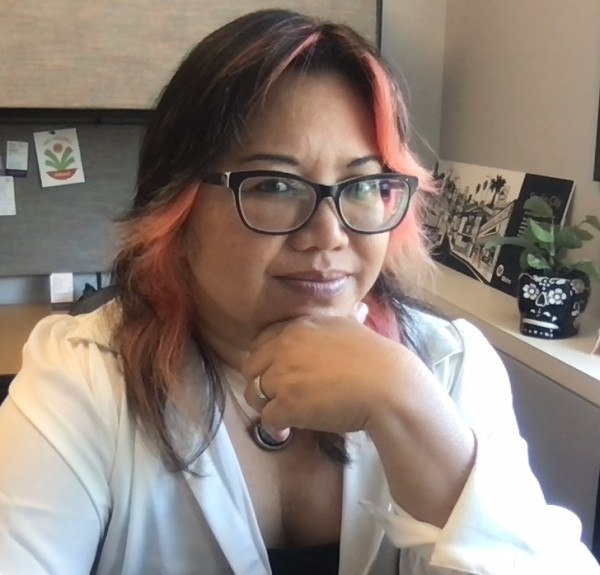 Jolivette Mecenas, Ph.D.
Associate Professor and Composition Coordinator
Office Hours: Tuesdays and Thursdays 11:00am - 12:00pm and by appointment
I am an Associate Professor and the Composition Coordinator in the English Department. My current research focuses on writing programs that support educational access and equity for historically under-represented students, in first-year writing courses and writing in the disciplines/across the curriculum. I also write about how minoritized populations create reading and writing publics as a form of advocacy and civic discourse. I grew up in the San Fernando Valley region of Los Angeles, graduated from Los Angeles Unified public schools, and was a first-generation college and graduate student. I earned my Ph.D. in English at the University of Hawaii-Manoa, where I taught writing and advanced written argumentation. I have taught writing at San Francisco State, and I've taught and directed the writing programs at the University of La Verne and at California State University, Los Angeles.
I teach courses in critical reading and writing, rhetorical theories, critical theories, advanced argumentation, and the teaching of writing.
Ph.D. English, Department of English, University of Hawai'i-Manoa
M.A. English (Rhetoric and Composition), Department of English, San Francisco State University
B.A. Art; Literature (Minor), Departments of Art and Literature, University of California, Santa Cruz
Peer-Reviewed Articles
"Recognizing Institutional Diversity, Supporting Latinx Students: First-Year Writing Placement and Success at a Small Community Private HSI." Open Words: Access and English Studies. Eds. Kristina Gutierrez, Yndalecio Isaac Hinojosa, and Sue Hum. Pearson. 2019.
Edited Book Chapters
"Advocating for Second Language International Students, Building on Recent Research from A/AAC Caucus Members." Building a Community, Having a Home: A History of the CCCC Asian/Asian American Caucus. Eds. Monberg, Terese Guinsatao, Jennifer Sano-Franchini, and Hyoejin Yoon. New City Community Press and Parlor Press. 2016. Print.
"A Career of Acting 'Ill-Mannered': Jeffery Paul Chan on Reviewing Textbooks for NCTE and Teaching Ethnic Studies." Listening to Our Elders: Writing and Working for Change. Eds. Blackmon, Samantha, Cristina Kirklighter, and Steve Parks. Utah State UP, 2012. Print.13pp.
"Beyond 'Asian American' and Back: Coalitional Rhetoric in Print and New Media." Representations: Doing Asian American Rhetoric. Eds. Mao, LuMin and Morris Young. Utah State UP, 2008. Print. 30pp.
Other Publications: Teaching Blogs, Creative Nonfiction, and Fiction
"Using Multimedia Profiles to Tell Immigrant Stories." In the Classroom. KQED Education. 7 March 2019. Web.
"Leaning Out." Literacy & NCTE: The Official Blog of the National Council of Teachers of English, Urbana, IL. August 2016. Web.
"The Baby Project." National Public Radio, Washington, D.C. June – September 2011. Web.
"A Fistful of Love." Transfer Magazine 100th Edition Commemorative Issue. San Francisco, CA: San Francisco State University, December 2010. Print.