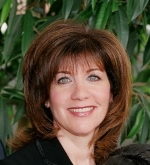 Jodie Lunine Kaplan, MA, LMFT
Senior Adjunct Faculty Member
About
Jodie Lunine Kaplan was licensed as an MFT in 1996 after receiving her masters degree from Pepperdine University and her undergraduate degree from UCLA. Jodie works for the Ventura County Office of Education SELPA as a Social Emotional Services Specialist. In this position, Jodie provides mental health counseling and behavioral support services to schools in Ventura County including Frontier High School (at risk youth) and schools in the Rio and Oxnard Union High School District. Jodie also provides clinical supervision at the SELPA for MFT Interns and Trainees. In 2009 and 2010 as part of her SELPA position, Jodie worked with students with Autism at Triton Academy in Camarillo. Before working at the SELPA, Jodie was employed by Ventura County Behavioral Health (VCBH) for 5 years as an MFT providing services to children at Simi Options and Conejo Options Clinics. In this position, Jodie also worked for two years at the Phoenix School in Camarillo with elementary aged Emotionally Disturbed children. As a member of the Disaster Mental Health Team for the American Red Cross, Jodie volunteered and provided support and disaster relief for the Alaska Airlines and La Conchita disaster as well as local fires in Ventura County. Jodie also has a part time private practice in Westlake Village.
Jodie teaches the following courses at CLU: Systems of Counseling and Psychotherapy, Human Lifespan and Development, Principles and Techniques in Child Therapy and Counseling Skills
Education
Jodie received her Bachelor of Science in Psychobiology from UCLA and her Masters in Clinical Psychology from Pepperdine University.
Expertise
Jodie has developed an expertise in working with children and adolescents since 2001 by working for the SELPA and VCBH. Currently Jodie works for the VCOE SELPA as a Social Emotional Services Specialist and Clinical Supervisor of MFT Interns and Trainees. In private practice, Jodie works with adults and couples and has experience helping clients deal with issues related to anxiety, depression, life transitions, relationships and personal growth.