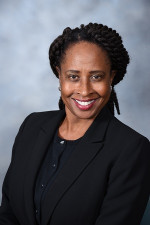 Kimberly Turner, Ph.D., MSFS, CFP®, ChFC®, CLU®, AEP®, CAP®
Adjunct Faculty Member
Dr. Kimberly Turner is a CERTIFIED FINANCIAL PLANNER™ with National Financial Group LLC. She is the vice president of Financial Planning. She develops and implements financial planning, retirement planning, business financial management planning, and wealth management planning strategies for ultra-high net worth individuals. In addition, she actively coaches and trains other advisers on various financial concepts and financial solutions. Furthermore, she is an adjunct professor at California Lutheran University teaching insurance, risk management, and retirement income planning courses.

Prior to becoming a financial planner, Kimberly managed three successful real estate offices and received numerous awards. Concomitantly, serving as a part-time faculty instructor at Brevard Community College, teaching real estate investment courses. During her reign as a real estate broker, she was the owner and manager of Quality Title of Florida LLP and Senior Mortgages LLC.

Kimberly held several real estate and mortgage designations. She was inducted into the real estate hall of fame in 2000. The Home Builders & Contractors of Brevard Association honored her as the 2001 Real Estate Sales Manager of the year.

Kimberly is a graduate of University of Florida, where she received her Bachelor of Science degree in Health Science. She also completed studies and certified to become a physician assistant.

Kimberly obtained her PhD degree in financial planning and retirement planning at The American College in 2019. She holds a Master of Science degree in Financial Services.

She holds several financial industry renowned designations;

Certified Financial Planner ® Accredited Estate Planner ®

Chartered financial consultant ® Chartered Life Underwriter®

Chartered Advisor in Philanthropy ® Life Underwriter Training Fellow®

Bachelors of Science in Health Science from University of Florida.

Masters of Science in financial services from The American College.

PhD Candidate in financial services and retirement planning from The American College.

She holds several financial indsutry renowned designations;

Certified Financial Planner
Accredited Estate Planner
Chartered Financial Consultant
Chartered Life Underwriter
Chartered Advisor in Philanthropy
Life Underwriter Training Fellow
Certified Financial Divorce Specialist

Her expertise is in financial planning, retirement planning and real estate investment planning.