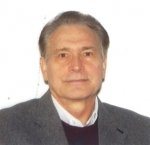 Kenneth Seth Macklin, Ph.D.
Adjunct Faculty Member
August 2000 – Director, Pastoral Studies Program

January 2003 Trinity College of Graduate Studies Anaheim, CA

Fulfilled administrative duties and provided spiritual direction as needed throughout all aspects of the program.

August 1996 – 2007 Professor, Trinity College of Graduate Studies Anaheim, CA

Taught a variety of courses in the Doctor of Psychology (Psy. D.) program and the Counseling Psychology (M.A.) program. Focused primarily on integrating Christian spirituality and psychology. Courses taught included the following:

Christ, the Spirit, and Agents of Change

The Psychology of Spiritual Practices

The Trinity, Human Nature, and Community

The Spiritual Disciplines

Theology and Psychotherapy

Church Dynamics (Sociological and Organizational Patterns of Power)

Christian Spirituality and Psychology

Ph. D. Graduate Theological Foundation/Oxford Oxford, England

September 3, 2014 Theological Studies Spirituality and Ethics

Master of Arts Creighton University Omaha, Nebraska

August 1998 M.A.: Christian Spirituality

Doctor of Ministry Romano-Byzantine Inst. of Religious Duluth, Minnesota

December 1996 Arts and Sciences

Eastern Orthodox Spirituality

Master of Divinity Methodist Theological School in Ohio Delaware, Ohio

May 1985

Ordination United Methodist Clergy Cal/Pac Annual Conference

June 1990 Redlands U./Redlands CA.

Bachelor of Arts Southern California College (Vanguard U.) Costa Mesa, CA

July 1976 Major: Religion and Philosophy

Doctoral dissertation Spirituality and Ethics: An Integration of Theology, Psychology, and Spirituality in the Workplace, Academia, Church, and Society. The focus of thesis is an open approach to theology/spirituality through transformative intersections of bumping up against (molecular quantum physics), crash, and Merleau-Ponty's phenomenological perspective of shock.