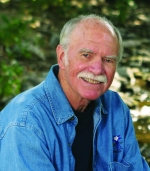 Jack T. Ledbetter, Ph.D.
Professor of English, Emeritus
About
An actively published writer, Dr. Ledbetter's poems, stories and articles have appeared in numerous magazines and anthologies. His two latest poetry collections are UNDERLYING PREMISES, Lewis Clark Press 2010 and OLD AND LOST RIVERS, Lost Horse Press, 2012. Among the topics he taught at the University are creative writing, modern poetry, the history of English poetry and philosophy of art. In 1970 Dr. Ledbetter founded Morning Glory, an award-winning literary magazine produced by CLU students, and served as adviser for 25 years.