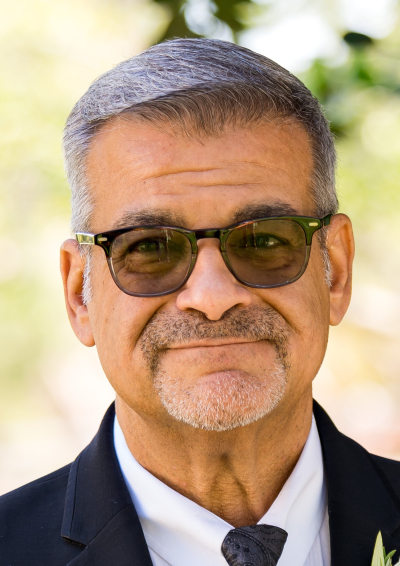 Michael N. Cosenza, Ed.D.
Professor of Education
Dr. Cosenza teaches in the CLU Teacher Credentialing program. In his role as Director of Professional Development Schools (PDS), Dr. Cosenza provides oversight and leadership for partnerships with Flory Academy of Sciences and Technology in Moorpark, Campus Canyon College Preparatory in Moorpark, Los Cerritos Middle School in Thousand Oaks and Royal High School in Simi Valley. Dr. Cosenza has expertise in teaching methods, clinical fieldwork, supervision and strategic planning. In addition to his departmental responsibilities, he serves on the Graduate Curriculum Committee and is the Faculty Senator representing the Graduate School of Education.
Outside of the university, Dr. Cosenza serves as vice-president of the California Council on Teacher Education (www.ccte.org), treasurer of the California Association of School-University Partnerships (www.casup.org)and past-president of the National Association for Professional Development Schools (www.napds.org).
B.A. Queens College of the City University of New York
CA K-12 Multi-Subject Teaching Credential/CLAD
M.Ed. California Lutheran University
Ed.D. California Lutheran University
Dr. Cosenza's areas of expertise include:
Teaching Methods and Differentiation Strategies
Instructional Planning/Design
Integrating Technology into the curriculum
Clinical Field Experiences for teacher preparation
Development of Strategic Plans
The use of the Professional Development School (PDS) model for the preparation of new teachers and the continued development of veteran teachers
Teacher Leadership, Collaborative Leadership and Developing Professional Learning Communities
Books
Shoemaker, E.., Cosenza, M., Kolpin, T., Allen, J. (2020) A Pathway to PDS Partnership:Using the PDSEA Protocol, Information Age Publishing, Charlotte, NC
Peer Reviewed Publications
Cosenza, M. (2015), Teachers Defining Leadership: Affirming the Teacher Leader Model Standards, Issues in Teacher Education, The journal of the California Council for Teacher Education, 24(2), 79-100
Kolpin, T., Shoemaker, E., Allen, J., Thomas-Cary, C., Cosenza, M., Ensey, P., McCambridge, M., Morris, J., Trotter, J. (2015) Concept of Readiness: Assessing Factors in the Development, Implementation and Sustainability of a PDS Partnership School-University Partnerships, School-University Partners, the Journal of the National Association of Professional Development Schools, 8(1), 24-36
Cosenza, M. (2013), Teacher leadership development in PDSs: Perceptions of 22 Veteran Teachers, School-University Partnerships, The Journal of the National Association of Professional Development Schools, 6(1), 47-58
Kolpin, T., Shoemaker, E., Cosenza, M., Taylor, P., Morris, J., Ensey, P., Allen, J., McCambridge, M. (2013), Readiness in a Culture of Inquiry, Paper presented at the 2013 annual meeting of the American Educational Research Association, AERA online paper repository, http://www.aera.net/Publications/OnlinePaperRepository/AERAOnlinePaperRepository/tabid/12720/Default.aspx
Erickson, E., Tenenbaum, M., Botz, H., Cosenza, M., Cruz, S. (2008). The use of the consultancy protocol in supporting doctoral student work. Conference Proceedings of the Hawaii International Conference on Education, January 2008, Honolulu, HI
Cosenza, M. (2004). Computer based mathematics instruction in fifth grade using Accelerated Math. Renaissance Learning, Inc. http://research.renlearn.com/research/246.asp
Book Chapters
Cosenza, M. (2020) PDS Residency: Resource Sharing and Recognition. In Garin, E, Burns, R (Eds.) Clinically Based Teacher Education in Action: Cases from Professional Development Schools, Information Age Publishing, Charlotte, NC.
Cosenza, M. (2018) Definitions, Structures and Cultures that Promote Teacher Leadership. In Hunzicker, J. (Ed.) Teacher Leadership in Professional Development Schools, Emerald Publishing Group, London, UK.
Cosenza, M., Buchanan, M. (2018) A Short History of Professional Development Schools: Looking Backward and Forward. In Buchanan, M., Cosenza, M. (Eds.) Visions from professional Development School Partnerships: Connecting Professional Development and Clinical Practice, Information Age Publishing, Charlotte, NC.
Cosenza, M. (2018) From Courtship to Marriage: Using Pilot Programs to Create Professional Development Schools. In Buchanan, M., Cosenza, M. (Eds.) Visions from professional Development School Partnerships: Connecting Professional Development and Clinical Practice, Information Age Publishing, Charlotte, NC.
Coler, C., Cosenza, M. (2018) Dynamic Liaisons: Creating New Roles, Responsibilities and Relationships. In Buchanan, M., Cosenza, M. (Eds.) Visions from Professional Development School Partnerships: Connecting Professional Development and Clinical Practice
Cosenza, M., (2018) PDS Governance: Building a Collaborative Steering Group. In Buchanan, M., Cosenza, M. (Eds.) Visions from Professional Development School Partnerships: Connecting Professional Development and Clinical Practice, Information Age Publishing, Charlotte, NC.
Cosenza, M. (2018) Building Leadership Capacity: Roles and Responsibilities in a PDS. In Buchanan, M., Cosenza, M. (Eds.) Visions from Professional Development School Partnerships: Connecting Professional Development and Clinical Practice, Information Age Publishing, Charlotte, NC.
Cosenza, M., Buchanan, M. (2018) Connecting the Local PDS Community: The Southern California Professional Development School Consortium. In Buchanan, M., Cosenza, M. (Eds.) Visions from Professional Development School Partnerships: Connecting Professional Development and Clinical Practice, Information Age Publishing, Charlotte, NC.
Erickson, D., Cosenza, M (2012) Paving the Way for Partnerships with Public Schools in Southern California: Leadership Training Centers and Professional Development Schools. In L. Wildman (Ed.) Educational Administration Programs and K-12 Education, Sacramento, CA: Association of California School Administrators
Newspaper and Magazine Articles
Cosenza, M, (2019) The Teacher Shortage: Restoring a Noble Profession, Ventura Country Reporter, Ventura California
Cosenza, M. (2018) Connecting the PDS Community: NAPDS Affiliates. (invited article) PDS Partners, a peer edited magazine of the National Association of Professional Development Schools 13(3), 20-21
Cosenza, M. (April 20, 2016), States Created Common Core Not Federal Government, Ventura County Star, Ventura California
Cosenza, M, (2015), Essential Six: An articulation agreement developed by the respective participants delineating the roles and responsibilities of all involved, Fall 2015 Edition of Network News, Magazine of the Southern California Professional Development School Consortium, 4(2), 6-7
Cosenza, M., (March 22, 2013), A teacher education model that works, Ventura County Star, Ventura California
Cosenza, M. (2010) Using year-long pilot programs to create new PDSs that benefit all stakeholders, PDS Partners, a peer-edited magazine of the National Association of Professional Development Schools 5(3), 8-9