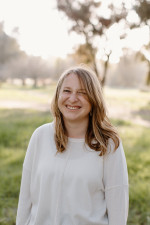 Hilary Morefield, M.Ed
Adjunct Faculty
She/Her/Hers
About
Hilary Morefield is a Visual & Media Arts educator with eight years of experience in the arts education field, including work for K-12 public schools, museums, and non-profit organizations. She received her M.Ed and credential from California Lutheran University and a B.A in Visual Arts (Media) and Communications from UC San Diego.
Hilary currently works as a middle level arts educator for the Ventura Unified School District, and is a Connected Arts Network (CAN) Teacher Leader for the National Arts Education Association (NAEA). Prior to working in public education, she worked in the nonprofit sector as a teaching artist in San Diego, Los Angeles, and in Bosnia-Herzegovina. She has taught & contributed to projects with Outside the Lens, Mediterranean Film Festival School, Santa Paula Art Museum, Venice Arts, Inner City Arts, Media Arts Center San Diego, and High Tech High.
Her research and practice interests include: arts integration, media arts, career and technical education, and social emotional learning.