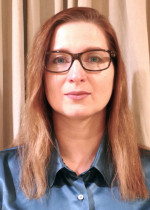 Margarita Vaiman, MBA, MSC
Adjunct Faculty Member
About
Margarita Vaiman is a Senior Adjunct Faculty at California Lutheran University, who has been teaching at CLU since 2013.
She received her Bachelor of Arts in Economics & Business (hons.) from York University, Toronto, Canada, which was followed by Master of Business Administration (MBA) (AMBA accredited) and Master of Organizational Behavior and Talent Management from Reykjavik University, Iceland.
Ms. Vaiman has extensive research and consulting work experience throughout the world.