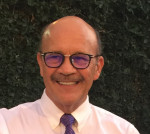 Primo D Custodio, MBA
Adjunct Faculty Member
MBA, Business Management/Organizational Behavior, California Lutheran University

Bachelor of Science, Business Management, California Lutheran University

Senior level executive with more than 25 years broad-based experience in Human Resources strategic business planning, process improvement, employee engagement, and leadership development. Proven ability to work with senior leadership teams to successfully integrate the HR function within the overall business operating strategy of clients to achieve organizational and financial objectives. Earned a reputation for leadership, dedication, flexibility and positive work ethic; retained through six mergers and acquisitions.