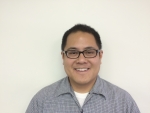 Reginald deGuzman, MS
Adjunct Faculty Member
RJ deGuzman has been in the public accounting industry for 15 years.

He is a Certified Public Accountant with the California Board of Accountancy. He is active with the California Society of CPAs, and he is a member of the American Institute of CPAs.

RJ deGuzman graduated with an undergraduate degree from the University of Southern California in Los Angeles, and he received a Masters degree from Golden Gate University based in San Francisco.

RJ deGuzman shares an accounting practice with his business partner. Together, they serve their small business clients in meeting their tax obligations as well as providing audit and review services. They also help their clients in regards to internal accounting practices as well as business consulting.

RJ deGuzman has had articles published in the CalCPA member publications. He is currently blogging about current issues regarding the public accounting industry.