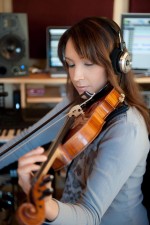 Rocio Marron, B.M.
Adjunct Faculty - Mariachi Ensemble
About
Rocio is a violinist, violist and music educator who recently recorded in the orchestra and played solo violin on "Proud Corazón" in the Disney Pixar film "Coco." She is also a violinist, violist string arranger and writer on the 2013 GRAMMY® Award-winning album "Imaginaries" by Quetzal.

Rocio attended the Colburn School for the performing arts while in High School and studied performance violin at USC's Thornton School of Music. She has made a name for herself as one of Los Angeles' exceptional improvising violinists. She has played in styles ranging from Country to Mariachi.

Highlights of Rocio's Mariachi career include, participating as a member of the USC Mariachi in its first year while in college. Contracting a Mariachi for NBC's The Voice and Playing for Change. She was also a coach and performer at the Tucson International Mariachi Festival.

Rocio has toured with Marc Anthony, Los Lobos, Joan Sebastian and Quetzal; performed with Rihanna, Usher, Adam Levine, Stevie Wonder, Gwen Stefani, Jennifer Hudson, Blake Shelton, Randy Newman, Lionel Richie, Dave Grohl, Pharrell Williams, Kelly Clarkson, Alicia Keys, Kamasi Washington, Glen Hansard, Aloe Blacc, Jessie J, Josh Groban, Lila Downs and Cuban bass legend Cachao; recorded with The Red Hot Chili Peppers, Raphael Saadiq and GRAMMY® Nominated Caravana Cubana, among others. Rocio also arranged and recorded as musical director for the GRAMMY® Award-winning Mariachi Divas and she's been a featured soloist with Ozomatli at the Hollywood Bowl. She recorded on several Son Jarocho albums including Son De Madera's "Las Orquestas Del Dia".

In terms of work for film and television, Rocio recorded for several major motion pictures including "Frozen 2" and Jordan Peele's "Us", "Christopher Robin" starring Ewan McGregor, "Tag" starring Jeremy Renner and Ed Helms, "Blow" starring Johnny Depp and Penelope Cruz, and "Dance with Me" starring Vanessa Williams. She has performed on television programs such as The Young and the Restless, Saturday Night Live, NBC's A Very Pentatonix Christmas, Carson Daly, The Late Late Show with James Corden and The Tonight Show. Rocio also performed on The GRAMMY® Awards as a violin soloist, The Rock and Roll Hall of Fame Induction Ceremony, NBC's The Voice, American Idol, Little Big Shots, Forever Young, ABC's Rising Star, American Music Awards, ALMA Awards and The Trans-Siberian Orchestra. She appeared on Jane the Virgin, The X Factor on FOX, MTV Video Music Awards and Radio Music Awards. She is in the 2013 Maroon 5 music video for their single "Daylight" as a featured musician from Playing for Change. Rocio is a former faculty member of the Silverlake Conservatory of Music where she taught violin, viola and guitar.
Rocio currently operates a private music studio in Newbury Park where she teaches violin, viola and guitar. She is a member of the Music Teachers' Association of California (MTAC).
Rocio released her self-titled debut album Rocio Marron, in November 2011. Rocio composes her songs, performs vocals, violin, viola, guitar, and arranges as well as engineers her tracks. Listen to the entire album on her musician website: www.rociomarron.com
Education
Bachelor of Music, University of Southern California 1999
Encore School for Strings, Summer Institute, Cleveland, OH
Round Top Music Festival, Summer Institute, Round Top, TX