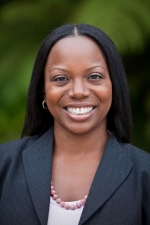 Schannae L. Lucas, Ph.D
Professor and Chair of Criminology and Criminal Justice
About
A tenured Professor of Criminology and Criminal Justice, Dr. Schannae Lucas received her M.A. and Ph.D. from Washington State University in Criminology and Criminal Justice and her B.S. in Social Science at the University of California, Irvine. Prior to joining the Cal Lutheran faculty in 2008, Dr. Lucas was an Assistant Professor at Lewis University in Romeoville, Illinois in the Justice, Law and Public Safety Studies Department. At Lewis University, she taught at various branch campuses as well as at the Chicago Police Academy. Prior to going into academia Dr. Lucas worked in a Federal Community Correctional Center in Garden Grove CA, and she interned for the U.S. Probation and Parole Office in Santa Ana, CA.
Dr. Lucas's research interests and publications are in the areas of victimology, mass incarceration, community corrections and re-entry, and experiential learning in criminal justice. She has conducted re-entry evaluation work with various local agencies. Dr. Lucas was the first to implement the "Inside-Out Prison Exchange Program" at Cal Lutheran University and in Ventura County. This innovative prison education program is a college course taught with both Cal Lutheran students and incarcerated students the local jail. In recognition of the Inside-out Prison Exchange Program, Dr. Lucas received the Outstanding Professor Award from the Department of Criminology and Criminal Justice. (ABC7 News) https://www.youtube.com/watch?v=Wa98xQJVGHI.) Dr. Lucas also received the 2019 "Outstand the Alumni Award" from Washington State University.
While at Cal Lutheran Dr. Lucas has served as the Division Coordinator for the Social and Behavioral Sciences Division, Chair of the Educational Policies and Planning Committee, International Studies (EPPC-Int.), Chair of the Student Life Committee, and a member of the Appointment, Rank, and Tenure Committee (ART). Dr. Lucas is a long-time member of the American Society of Criminology (ASC) and Academy of Criminal Justice Sciences (ACJS), she has held various leadership positions with these national professional associations. Dr. Lucas has also received a number of mini grants for her work with outreach with domestic violence agencies, prison education as well as for service learning classes, and academic community outreach.
Education
B.A. from University of California Irvine, Irvine CA
M.A. and Ph.D. from Washington State University, Pullman WA
Expertise
Gender & Crime
Victimology
Mass incarceration
Corrections and Re-entry