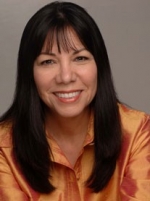 Teresa Thompson
Senior Adjunct Faculty Member
About
Teri Thompson is an award-winning advertising, promotions and social media strategist, adjunct professor, author and international public speaker specializing in social media, new technology and marketing for entertainment, automotive, retail, education, government, and non-profit clients. She has held creative and executive positions at ABC, CBS, NBC, Telemundo and launched Fox Sports Net where she won awards for launching stars, series, movies, stations, and networks. She has worked with top designers and musicians in sales partnerships that included Audi of America, General Motors, Toyota, Coors, Microsoft, Dominos and other major brands.
Thompson implemented global social media and promotion campaigns such as Remote Area Medical and Audi of America's 2010 Super Bowl XLIV "Green Police" campaign recognized as #1 by the Wall Street Journal. She served as Media Director at Initiative/IPG Global on U2 Bono's (RED)™ project combating AIDS in Africa in conjunction with partners Apple, Converse, Motorola, Emporio Armani, Gap, and the United Nations Global Fund. As part of the Innovations Team, she strategized emerging technology marketing campaigns for direct clients Lions Gate Home Entertainment, Hyundai Motors of America, Kia Motors America and collaborated on Dr. Pepper/Snapple, Home Depot, CBS Network, Showtime, Lions Gate Films, Nikon, and Victoria Secret.
In addition to consulting corporate, non-profit, and government clients, Thompson is Social Media Marketing Adjunct Professor in the California Lutheran University MBA Program, Thousand Oaks as well as an Adjunct Professor, Social Media Communication at Woodbury University, Burbank, California Here in the U.S., she has lectured at the Harvard Faculty Club, USC, UCLA Extension, and Mount St. Mary's College. International presentations on Social Media for Domestic and International Business Growth have taken her to Austria, Canada, Cuba and The Netherlands where she participated in a "Doing Business in Europe" pilot program. Thompson was also a keynote speaker at the Unijos Peace Conference in Nigeria on Social Media for Peace Action. She recently conducted a Social Media Marketing webinar for the Moscow, Russia area in conjunction with IBSA, International Business School.
Thompson is the co-author of The Power of Real-Time Social Media Marketing by McGraw-Hill Professional. She can be heard as a social media subject matter expert on the KNX Business Hour and KFWB Money 101 radio stations in Los Angeles. A much sought-after speaker on the subject of real-time social media, her public and private corporate audiences have included the Academy of Television Arts and Sciences, CBS Radio, Disney Cable Networks, The Actors Fund, L.A. Chapter Society of Professional Journalists and numerous Bar Associations. She has advised the Los Angeles Chamber of Commerce, the nation's second largest COC, and their members on strategic use of social media for business growth and development and currently conducting social media research for the Los Angeles Department of Cultural Affairs Public Art Division. Thompson is also an advisor to the Maverick Angels, a Southern California angel investing group and their clients.
Thompson is a native Southern Californian and graduated with honors from Long Beach State University, Long Beach, California. With extended family throughout the area, she resides in Simi Valley, California with husband, Rick Thompson, Supervisor, Media Exchange, CBS Corp., Los Angeles.