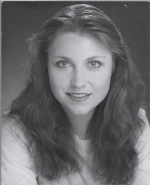 Barbara Wegher-Thompson, MA
Senior Adjunct Faculty Member
Barbara Wegher-Thompson holds a BA and MA in Dance from UCLA, with an emphasis in performance and choreography. She toured as a featured performer with the UCLA Dance Company, was a member of Alleluia Dance Theater, and performed with the the LA based company, Martha Kalman and Dancers. During her training at UCLA she had extended, intensive work with the Limon Dance Company and with Alwin Nikolais.

After graduating, she performed in numerous musicals with Santa Barbara Repertory and Alhecama Theater in Santa Barbara. These productions included My Fair Lady, The King and I, Hello Dolly!, and The Most Happy Fella. She toured with both Hubert Castle Shrine Circus and Paul Kaye's Circus International, as part of a dance troupe - Trios Los Gauchos.

Between 1982 and 1984, Barbara studied film acting at Jane Bolton Studios in Hollywood, joined SAG, and had small roles in film and TV, including Private School and Square Pegs.

She received certification as an Alexander Technique teacher from the Alexander Foundation in Philadelphia in 1991. She is a teaching member of Alexander Technique International. During the past 30 years at CLU Barbara has taught Alexander Technique, Linklater Voice, dance, and Movement for Actors with an emphasis in Viewpoints. For five years she directed the CLU Theater Department's touring Children's Theater, This program featured actors from the theater department performing both on tour to elementary schools as well as in productions mounted at the Thousand Oaks Civic Arts Plaza.

Over the years, Barbara has choreographed numerous productions for CLU including Westside Story, Kiss Me Kate, Anything Goes, Cabaret, Company, Candide, The 25th Annual Putnam County Spelling Bee, and The Drowsy Chaperone. She has been movement consultant for departmental productions including Three Penny Opera; Pericles, Prince of Tyre; and Suddenly Last Summer.

She was a founding teacher with CLU's Summer Theater Camp for Youth. The camp eventually became part of the Kingsmen Shakespeare Festival and became known as Camp Shakespeare. Yearly, Barbara directs a two week Musical Theater Workshop as part of Camp Shakespeare.

Along with working at CLU, Barbara was affiliated for 25 years with The Young Artist's Ensemble of Thousand Oaks. She both directed and choreographed for YAE. Productions she directed include The Lion, the Witch, and the Wardrobe; Charlotte's Web; and Anne of Green Gables. Productions she choreographed include The Sound of Music, Cinderella, Kismet, and Big River. She was the founding director of Hillcrest Players, a division of YAE designed for the 9 to 15 year old performers. Some of the Hillcrest Players productions she directed include The Trial of Goldilocks, Witch Academy, Under Jekyll's Hyde, Tongue Twisted, and Twinderella.

BA and MA in Dance, UCLA, Performance and Choreography emphasis
Certification to teach Alexander Technique, 1991, The Alexander Foundation of Philadelphia

Alexander Technique
Linklater Voice
Movement for Actors (Viewpoints)
Choreography
Dance - Modern, Ballet, Jazz

Community Leaders Foundation Grant for California Lutheran University Day of Dance/Thrill the World Thousand Oaks 2014. A full day of dance offered to both CLU students and the surrounding community. The day included masterclasses offered in yoga, jazz, contemporary, and hip hop; hosting a Thrill the World event in Kingsmen Park; while raising funds for World Dance for Humanity.

California Lutheran University Experiential Learning Grant Fall 2014 bringing Padmini Vasan to campus to conduct a master class in East Indian Dance. This masterclass was open to any interested student, but was intended to enrich the curriculum for the students in TA102 Introduction to Dance. Introduction to Dance is an active course in the history of dance. Padmini Vasan has been teaching East Indian dance for 30 years. She is versed in Bharatnatyam, Mohni Atttam and Kathakali. She founded the Padmalaya School of Dance in Thousand Oaks.

California Lutheran University Experiential Learning Grant Spring 2014 and 2016 establishing "Moving Images", a fully produced dance concert of works choreographed by CLU Dance Students. This concert showcases choreography by students in TA482 Choreography and TA102 Introduction to Dance.

Artists and Speakers Committee funding Spring 2014 for a Marley Dance Floor for the Preus-Brandt Forum Stage. The Marley dance floor is one of several upgrades to the Preus Brandt Forum stage making it safe for dance students to perform there. In addition, acquisition of the Marley surface is one of the Equity requirements for professional dance companies. The Artists and Speakers Committee can now bring professional dance companies to perform at CLU.

California Lutheran University Experiential Learning Grant Fall 2015 and 2016 bringing Alleluia Dance Theater to campus to conduct the CLU Fall Sacred Dance Celebration. Alleluia Dance Theater is a nonprofit corporation whose mission for 35 years has been to inspire and encourage people in their spiritual journeys, through movement. The day is open to all CLU students and community, but is specifically intended to enrich the curriculum for the students in TA102 Introduction to Dance. Introduction to Dance is an active course in the history of dance including a unit on Sacred Dance throughout history in a mulitiplicity of cultures. Members of the Alleluia Dance Theater conduct sessions in Sacred Drumming and Dance of Ghana as well as Western Liturgical Christian Dance. Paticipants from the workshop later dance in Thursday morning service in Samuelson Chapel.