When you pursue a future in medicine, you dedicate yourself to the well-being of those you help.
With the pre-med advising program, you'll have the education, resources and support you need to successfully pursue your chosen career as a doctor, nurse or other medical professional.
Choose your own major
The pre-med advising program does not limit you to any particular major. Study what most closely aligns with your passions. Whichever major you choose, you'll receive the full benefits of a liberal arts education — making you a well-rounded applicant for medical, dentistry or pharmacy school.
Take specially designed courses
Along with your regular classes, you'll need to take a year of each of these subjects to be considered for med school:
General and Organic Chemistry
Introductory and Advanced Biology
Physics
We also recommend taking Biochemistry, Psychology and Medical Sociology — they're on the MCAT exam. Optional clinical courses, such as Immunology and Pre-Health Seminar, give you the opportunity to learn directly from practicing medical professionals. All of these courses will prepare you for a future career in medicine, dentistry, nursing, pharmacy and physical therapy. Learn more about required and recommended courses.
Get experience that matters
You'll have shadowing and internship opportunities at local hospitals, clinics, and healthcare organizations. Some of our students have worked at Los Robles Hospital, St. Johns Hospitals and Amgen. You'll also get exposure to research opportunities with professors in the lab and even COPE Health Scholars. These kinds of firsthand experiences are invaluable — and make you a much stronger medical, dentistry or pharmacy school candidate.
Join a strong pre-med community
Our current pre-med and pre-health students share your passions and goals. They will welcome you into their tight-knit community through clubs and organizations such as the American Medical Student Association. Their mentorship will play a huge role in your success.
Benefit from dedicated advisors
As you prepare to apply to medical school, you will have one-on-one counseling every step of the way. This includes resume writing and personal statement reviews, mock interviews, maintaining a file for your letters of recommendation, and coordinating your mailings for school applications.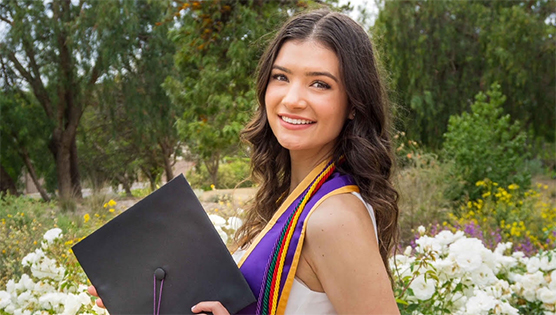 Through Cal Lutheran's Pre-Health Seminar Class in the Pre-Med Program, I was able to learn more about the PA profession and was introduced to COPE Health Scholars. I was able to do Microbiology research on the transmission of Staphylococcus aureus, a bacterial species that can cause a variety of clinical diseases. The professors were very supportive in my learning and always open to answering questions.
Allison Rummell '20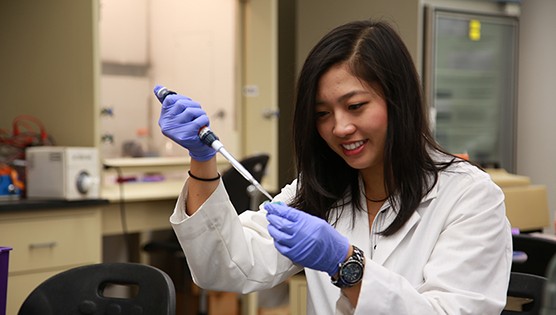 I have been shadowing two UCLA pulmonologists consistently since the summer of my freshman year. This experience has been an eye-opener to not only how hard it is to be a doctor, but how worthwhile this profession is. Seeing the patients each week brings me great joy and has solidified my desire to become a doctor.

Amy Lai '17
Your Future
Upon graduation, you will be well-prepared for the challenges of medical school. You will also have free, lifelong access to our Career Services — an invaluable resource as you advance in your education and career.
Our graduates have gone on to study at:
Georgetown University, School of Medicine
Lake Erie College of Osteopathic Medicine
Mayo Medical School, Rochester, MN
New York University, School of Medicine
San Francisco School of Medicine (UCSF)
Stanford School of Medicine
University of California, Los Angeles (UCLA) Medical School
University of Nevada, Reno School of Medicine
University of Southern California (USC)
Western University of Health Sciences