Our ACBSP-accredited Executive MBA is designed for successful career-minded people striving to achieve their next big goals and perform at peak potential.
In a cohort of peers from different industries, this hybrid program (online and compressed weekend courses) explores topics relevant to senior leaders, from managing people to managing processes and operations. With a strong emphasis on teamwork, participation, and communication, students benefit from a world-class faculty, small class sizes, a stimulating environment, and exclusive networking opportunities.
Want to learn more?
Let us know you're interested and we'll reach out to answer your questions. You'll also receive more information about the program and your financial aid options.
Loading...
A Program for Leaders
We designed this program for professionals with a minimum of 5-7 years of professional experience.
The program focuses on five key areas of leadership and management.
Hybrid Model
The program features 16 courses delivered in a hybrid model: 8 on-campus, 7 online, and 1 travel.
The on-campus courses are offered in a compressed weekend format to work with your busy schedule.
Schedule of Courses
Courses are offered year-round through eight terms that are eight weeks in length.
The entire program is designed to be completed in less than 2 years.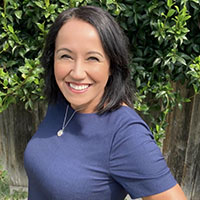 Being a woman in the workplace brings unique challenges, so it's been great to connect with the other women in my EMBA program. I've been meeting monthly with a group of them to discuss what's going on in our worlds, sound out opportunities and celebrate successes. It's awesome being able to learn from each other, and they are incredibly impressive and inspiring. We also later connected with a guest speaker from our Information Systems class, who gave us great insight on successfully navigating an industry still woefully underrepresented when it comes to women.
Arlene Martinez '22
Deputy Executive Director, Good Jobs First