Criminology and Criminal Justice
Bachelor of Science
Become a better practitioner by studying criminological theory, the justice system and law.
You'll develop the knowledge, skills and ethical training that are essential for pursuing a career in law enforcement, corrections, the legal system, probation and parole, or a variety of social service agencies. This program also prepares you for graduate studies in law, criminology, or public policy and administration.
Understand society, crime, and justice
By studying human behavior and social institutions, you'll get a complete picture of the causes of criminal behavior and crime's impact on society. You'll learn how the criminal justice system is made up of several agencies, each with its own important function and how they work together. You'll study:
Policing
Judicial processes
Corrections
Forensics
Law
Victimology
Crime research and statistics
Public policy
Theories of crime and criminality
Learn from different fields
Excelling in the criminal justice system or a related field requires a background in several different subjects. Your studies will incorporate theory, research, and practical applications with an emphasis on understanding crime and criminal behavior, criminal justice systems, as well as criminal and constitutional law. Your major will be enhanced with foundational courses that draw from:
Sociology
Political science
Psychology
Global studies
Public policy and administration
Gain field experience
As a requirement of the major, you'll complete an internship in a criminal justice or related agency. This opportunity — combined with your coursework that involves service learning, research projects, and field trips to justice agencies — will give you direct experience with the day-to-day operations of the criminal justice system. One of our most popular experiential learning experiences includes the Inside-Out Prison Exchange program, where students have an opportunity to take a college course alongside inmate classmates in a correctional facility.
Be a strong, ethical leader
Today's competitive job market and our global society require leaders who think critically, communicate clearly, and find ethical solutions to complex problems. Our classes are designed to incorporate these crucial skills throughout your coursework, rather than addressed in separate courses.
---
Programs
Offered as a major (BS).
Popular Minor Pairings
Want to learn more?
Let us know and we'll send you information about our academics, campus life, admission process, and more!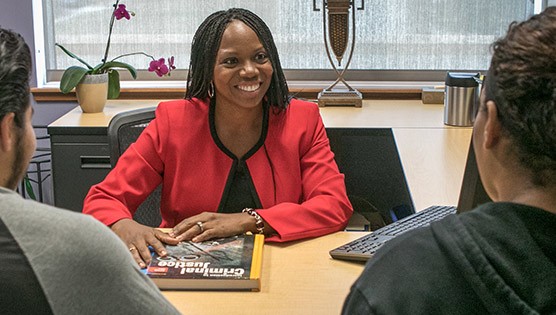 Teaching and mentoring experiential learning through research, instruction, and service has provided unique opportunities and invaluable academic growth for myself and my students. Our passions are deepened and our horizons are expanded.

Schannae Lucas
Associate Professor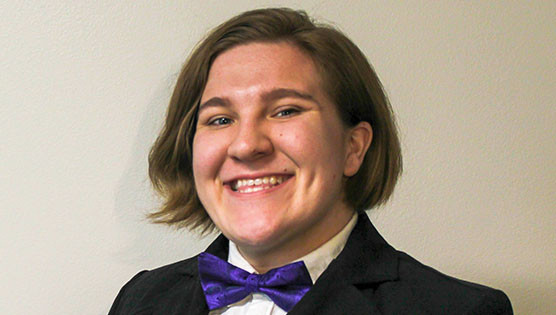 From the very first 'Intro to Criminal Justice' course to the final 'Criminal Justice Capstone' course, my interest and conviction for pursuing a career in this field have only been reinvigorated with every course, experiential learning opportunity, and interaction with the diverse group of educators, guest lecturers and working professionals that I've had the pleasure to engage with. This department provided me with many opportunities to take agency over my learning experiences while offering support and guidance to forge the path that best fits my needs.

Olivia Lassa '21
Majority of our criminology and criminal justice majors secure employment in the field after graduation or go on to graduate school or law school. While most graduates are employed in a criminal justice agency, such as law enforcement or probation, many also find employment in government agencies, nonprofits, and in private sector organizations such as insurance carriers and victim services.
Our alumni study at:
California Western School of Law
Columbia University
George Mason University School of Law
Indiana University, Bloomington
Loyola Law School
Northeastern University
Pepperdine Law School
San Diego State University
University of California, Davis
University of California, Irvine
University of Delaware
University of Denver
University of Nevada, Reno
University of Southern California
Our alumni work for:
Beverly Hills Police Department
Casa Pacifica Children Services
Department of Public Safety
FBI Cyber Division
Interface Children & Family Services
Los Angeles Police Department
Oxnard Police Department
San Diego Police Department
Santa Barbara Police Department
Santa Barbara Sheriff's Office
Simi Valley Police Department
United States Customs
University Campus Safety Departments
Ventura County Probation Agency
Ventura County Sheriff's Office, Crime Analyst Division
Career paths:
Border Patrol and Immigration Officer
Correctional Officer
Crime Analyst
Criminal Investigator
Customs Inspector
Juvenile Justice Officer
Law Enforcement (local, county and federal levels)
Lawyer
Legal Assistant
Park Ranger
Parole and Probation Officer
Professor
Researcher
Social Worker
U.S. Customs Agent
Victim Advocacy and Social Services
of Cal Lutheran graduates find a job or enroll in graduate school within nine months
More Career Outcomes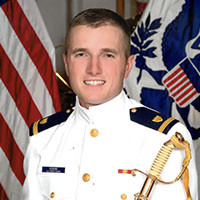 The Criminology and Criminal Justice program has set me up for success not only from its curriculum, but also with all the opportunities I had outside the classroom: sitting in on preliminary hearings, going on a California Highway Patrol helicopter ride along, and encouraging me to pursue leadership roles. Some key skills I learned in the program that are critical to my current role include the ability to decipher regulations into common language and link observations on vessel examinations to U.S. and international regulations.
Bradley Edens '19
Criminology and Criminal Justice Major
Officer, Apprentice Marine Inspector, United States Coast Guard
Want to learn more?
Let us know and we'll send you information about our academics, campus life, admission process, and more!