Exercise Science
Bachelor of Science
Exercise Science is an interdisciplinary program that prepares you for allied health, human movement, and physical education careers.
Since many exercise science careers require education beyond an undergraduate degree, you will be ready to enter these programs after graduation.
A strong research focus right from the start
Hands-on research is a core part of the Exercise Science program. Through your courses, you will:
Be introduced to research methods and literature
Participate as subjects in other students' projects
Complete group projects that answer specific questions in advanced laboratory classes
Conduct a semester or year-long research project in the Senior Capstone on a topic of your choosing
Many research and internship opportunities
The program also provides research opportunities through the Swenson Summer Research Fellowship program, Directed Research with a faculty member, or Independent Study Research in an area of interest to you.
We encourage and support internship opportunities at sites that include Physical Therapy and Occupational Therapy clinics, University Village, Miller Family YMCA, and SportsWestKids training center.
State of the art equipment supports your research
The Human Performance Lab gives you access to the tools and equipment you'll need to conduct meaningful research, including:
3-dimensional force plates
Biodex Isokinetic Unit
6-camera optical motion capture and analysis system
Telemetered electromyography system
Hologic bone densitometer
Metabolic measurement systems
12-channel ECG
Ergometers for the measurement of work and power
Develop professionally as you learn
There is a strong focus on professional development and professional engagement. In the past eight years, over 200 Exercise Science majors have attended the regional meeting of the American College of Sports Medicine. In 2007, Cal Lutheran students hosted the meeting. In 2008, the Southern California Conference on Biomechanics was held on the Cal Lutheran campus with seven of our students presenting to over 150 attendees.
Be active in the community
Exercise Science faculty and students are active in the community. Faculty frequently give lectures on topics related to exercise science, particularly exercise and aging. Many research projects conducted in the department also serve the community, with research project participants ranging from toddlers to the elderly.
---
Programs
Offered as a major (BS)
Concentration Options
Health Professions
Human Performance
Pedagogy/Teaching
Popular Minor Pairings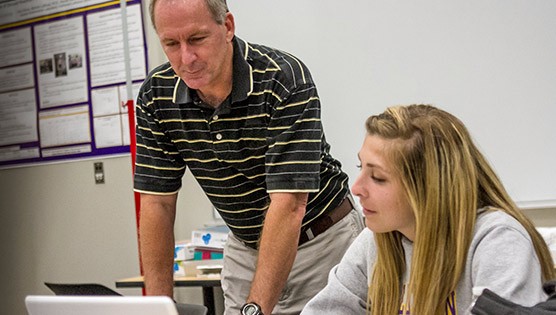 Students learn how to answer questions in their profession through the research process. Mentoring students through this process provides faculty the opportunity to stay abreast of recent developments in the field.

Steven Hawkins, Professor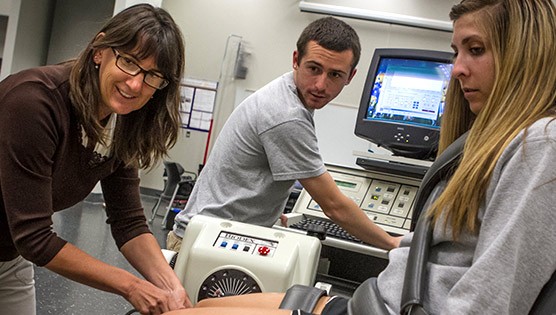 My work enables me to remain a student, which helps me connect with my students. I think it brings authenticity to what I'm trying to do in the classroom – how can I ask them to work hard and to be enthused about learning if I don't model that myself?

Michele LeBlanc
Professor
Many exercise science careers require additional education, certification, or licensure beyond an undergraduate degree.
Upon graduation, you will be prepared to enter additional educational programs in medicine, physical therapy, athletic training/sports medicine, exercise physiology, biomechanics, fitness management, nutrition, teaching physical education, and other health- and movement-related fields.
Our alumni study at:
Asuza Pacific University
Baylor University
Chapman University
Duke University School of Medicine
George Washington University
Loma Linda University
Regis University
University of North Carolina
University of Southern California (USC)
University of Washington
Western Kentucky University
Western University of Health Sciences
Yale University
Our alumni work for:
Camarillo Family YMCA
Elite Fitness Plus
Fire Department
Hand Rehabilitation Specialists
Los Robles Regional Medical Center
Southern California Orthopedic Institute
Recooperation Physical Therapy
San Ramon Regional Medical Center
Custom Physical Therapy
Paraxel Biopharmaceutical and Medical Device Company
Teach for America
Career paths:
Athletic Trainer
Firefighter
Physical Therapist
Occupational Therapist
Physician's Assistant
Physician
Physical Educator
Prosthetics
Registered Nurse
Sports Physical Therapist
of Cal Lutheran graduates find a job or enroll in graduate school within nine months
More Career Outcomes