Film and Television
Bachelor of Arts
Bring your ideas to the screen.
When you tell stories through film and television, you can shape opinions, warm hearts, document injustice, capture important moments in history, and celebrate the human experience.
New streaming services and a high demand for video content have opened up new opportunities for graduates, and Cal Lutheran's proximity to Hollywood provides year-round access to internships.
Our graduates work at Disney, ESPN, Netflix, CBS, ABC, Fox Sports, and KTLA, to name just a few.
Your classes will prepare you for a variety of careers in the film and television industry that include new opportunities in streaming, social media, and digital content. It's an industry with higher than average job growth and higher than average median salaries (according to the U.S. Department of Labor).
Your classes will provide hands-on training in Cal Lutheran's television studio and on-location from faculty who have industry experience.
You'll have access to equipment with the same high-quality production value as used by those in the industry.
Cal Lutheran's proximity to Hollywood means you'll have year-round access to internships to gain experience and make connections.
Opportunities to participate in film festivals and attending broadcast industry-related conferences.
Industry-focused Courses
Get hands-on experience and learn the fundamentals of modern media production. You can also choose elective courses on topics that interest you the most.
Beginning Television / Cinema Production
Advanced Television / Cinema Production
Film Theories
Screenwriting
Post-Production and Distribution
Storyboarding
Scenic Design for Stage and Media
Broadcast Sports Production
Broadcast News Production
3D Animation
Visual Effects/Motion Graphics
Sound for Film
---
Emphasis Areas
Programs
Offered as a major (BA) and a minor.
Recommended Minors
Want to add even more value to your degree? Consider one of these minors to gain a unique combination of skills and perspectives.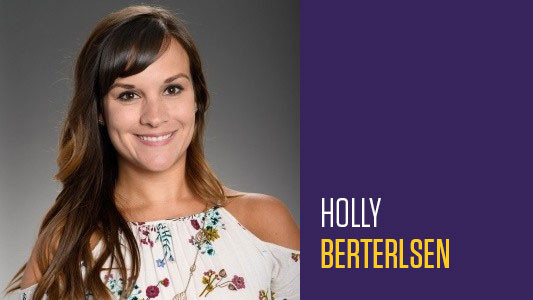 I wouldn't be where I am today if I didn't take full advantage of my internships, and the people I met on the way to graduation.

Holly Bertelsen
Executive Assistant to SVP - Alternative Series, Specials & Late Night at ABC Entertainment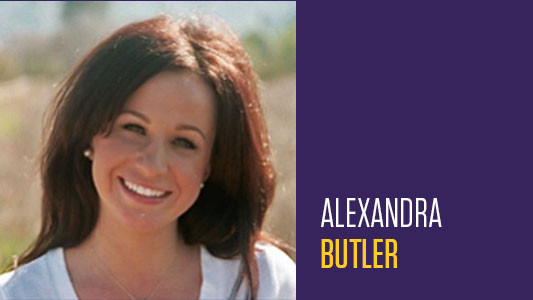 I work in both post and field production following and helping define episode story lines. When I am field producing I conduct interviews with the cast, produce scenes, and create story documents that are sent to the network. When I am working in post production, I work with editing technologies to prepare the footage for an editor. I make sure the best footage and moments are used in order to create a television series.

Alexandra Butler
Freelance Story Producer
Streaming services like Netflix and Amazon Studios have increased demand for original content, opening up opportunities for graduates to work in a variety of production roles. According to the U.S. Bureau of Labor Statistics, film/video editors, producers and directors have forecasted higher than average growth over the next decade, and have higher than average median salaries.
In addition to the entertainment industry, other industries require video production for use in marketing, advertising, public relations, and corporate training and education programs—broadening the scope of career paths.
Our alumni work for:
ABC
Bravo
Bunim-Murray Productions
CBS
Central Casting
Creative Artists Agency
Disney
Fox Sports
NBC
Netflix
NFL Network
TwoFour Media
of Cal Lutheran graduates find a job or enroll in graduate school within nine months
More Career Outcomes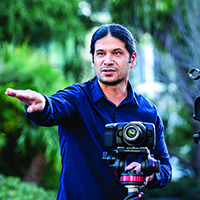 When I look at my students, I see future leaders, entrepreneurs, and storytellers that could make a positive change in human conditions. It inspires and motivates me to help them succeed in achieving their goals.
Mahmoud Salimi, MFA
Assistant Professor
Want to learn more?
Let us know and we'll send you information about our academics, campus life, admission process, and more!