Alumni Awards
The Cal Lutheran Alumni Board of Directors Awards Program recognizes the outstanding achievements of California Lutheran University alumni. Nominations for awards in the five categories listed below are welcomed from all members and friends of the Cal Lutheran community.
We look forward to receiving your nominations and recognizing the outstanding achievements of your fellow alumni.
Dr. Tracy M. Downs
Outstanding Alumni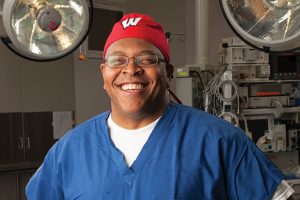 Tracy M. Downs, M.D., is a Professor of Urology at the University of Wisconsin School of Medicine and Public Health in Madison, Wisconsin. A board-certified urologist, he specializes in the surgical treatment of urologic cancers, particularly bladder and prostate cancers.  With a joint appointment at the University of Wisconsin Carbone Cancer Center, Dr. Downs devotes his research effort to develop new therapies for genitourinary cancers and his patient care on providing compassionate, cutting-edge treatment.
"As a urologic oncologist, I get a front-row seat each day to see the power of the human spirit," he said, noting that his patients often have to make difficult decisions about their treatment. "I see them demonstrate…resiliency on a daily basis."
After graduating from Cal Lutheran in 1988, Dr. Downs received his medical training at the University of California-San Diego (UCSD) School of Medicine, followed by a urologic surgery residency at Harvard and a urologic oncology fellowship at the University of California-San Francisco (UCSF). "My mom was awesome, just really loving. She didn't say you have to this or that as a career. But you knew that you should do well in school," he recalled. He also remembered the wisdom and encouragement of Dr.  Barbara Collins at Cal Lutheran, where he is now involved with Cal Lutheran's Science Initiative as a Commission for the Sciences member.
Following med school, residency, and fellowship, Dr. Downs became a faculty member in the Division of Urology at UCSD (2003-2010). He then joined the University of Wisconsin School of Medicine and Public Health (SMPH) faculty in 2010, where, for the past four years, he has been involved in the school's diversity, equity and inclusion efforts. As  Associate Dean for Diversity and Multicultural Affairs, he oversees the recruitment and support programs for students  from racially and ethnically  diverse backgrounds as they pursue research careers. Such students are underrepresented in medicine (URM) and his work as head of the Centennial Scholars program helps ensure the recruitment and career development of racially and ethnically diverse URM faculty.
"I'm 100 percent sure that I wouldn't be doing what I am now if I hadn't gone to Cal Lu," Dr. Downs reflected. "If we can be more inclusive about who has the opportunity to enter our undergraduate institutions, this can lead to a wider group of people being successful in all domains of society."