Alumni Awards
The Cal Lutheran Alumni Board of Directors Awards Program recognizes the outstanding achievements of California Lutheran University alumni. Nominations for awards in the five categories listed below are welcomed from all members and friends of the Cal Lutheran community.
We look forward to receiving your nominations and recognizing the outstanding achievements of your fellow alumni.
Rebecca (Costa) Smith
Outstanding Young Alumni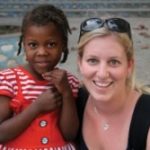 As a Cal Lutheran alumna, Rebecca (Costa 08') Smith knows the power a quality education can provide. A last minute decision to attend a church trip to Haiti her senior year exposed her to the daily challenges that burden Haitian children. Returning from her trip, Smith earned her bachelor's of science degree in Criminal Justice in 2008 and focused on working to change lives from the ground up. As CEO and co-founder of Destined for Grace, a non-profit thrift store in the Santa Barbara region, she has made it her personal mission to provide a safe environment for children in Haiti to learn by establishing a school in 2011 that is currently educating 220 students between Kindergarten and 6th grade. With many in the region not able to attend school because of extreme poverty levels, Destined For Grace plays a crucial role in education and development for the children it serves.
Through thrift store donations and ongoing fundraising, Smith and Destined for Grace now educate and feed the children of Mirebalais at a new campus that was completed in January 2016. These efforts also include a daily meal program, distribution of solar lights, a water filtration program and after-school activities, as well as growing food for the meal program on the school's five-acre property.
Expanding her reach, Smith has opened two thrift stores in the Santa Barbara area to help fund efforts and educate the local community about the struggles faced by Haiti's children. Her efforts are paying off as Destined for Grace has now grown to employ 15 people in the Santa Barbara area, as well as an additional 25 staff members in Haiti.