Alumni Awards
The Cal Lutheran Alumni Board of Directors Awards Program recognizes the outstanding achievements of California Lutheran University alumni. Nominations for awards in the five categories listed below are welcomed from all members and friends of the Cal Lutheran community.
We look forward to receiving your nominations and recognizing the outstanding achievements of your fellow alumni.
Laureen L. (Spinas) Hill, M.D.
Outstanding Alumni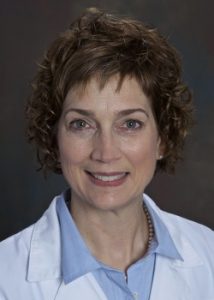 A self-reliant cowgirl who grew up on a working farm in Paso Robles, California, Laureen L. (Spinas '83) Hill found joy in the experience of learning from her first days at Cal Lutheran. It's a perspective she has embraced during more than two decades as a physician, and throughout her life.
Named as Cal Lutheran's 2016 Outstanding Alumni, the honor recognizes not only Hill's outstanding career in medicine and the many contributions she's made to academic healthcare delivery systems but also her passion to help shape the next generation of medical professionals. Having been part of both small universities and large, Hill is passing along the same guidance she had at CLU. She is adamant that students embrace their experiences.
Cal Lutheran resonated with Hill from the beginning. As an undergraduate at Cal Lutheran, she sought more than just a technical education. She wanted a university experience affiliated with the Lutheran church that would expand her view of the world. She was a student of science, but also was introduced to many things she continues to appreciate today, such as the arts, literature and philosophy.
Learning from professors who opened new doors, her time at Cal Lutheran helped her to boldly imagine the possibility of a career in medicine. She credits Dr. Barbara Collins as a key influence in her academic journey. "She would take our classes on hikes in the canyons and foothills surrounding the CLU campus and we'd learn about the flora and fauna. We could experience the influence of science on soil," Hill says. "I was able to explore my education with confidence. I think it was the way we were introduced to the intellectual side of things that made it so special."
Hill graduated from Cal Lutheran with a degree in medical technology and focused her early career in lab sciences. Five years later, she attended medical school at University of California, Davis, where she graduated first in her class.
Following an anesthesiology residency at Stanford, she pursued fellowships in critical care medicine, cardiovascular anesthesia and pediatric anesthesia, with a focus in congenital heart disease. She served as an assistant professor at Stanford and then at Washington University in St. Louis. From there, her vast experience in program development and health care leadership led her to pursue formal business training, earning an MBA at Washington University Olin School of Business. In 2011, the Emory University School of Medicine recruited her to chair the Department of Anesthesiology, a position she still holds. In addition to her administrative responsibilities, she continues to have a busy perioperative clinical practice, including preoperative evaluation, intraoperative anesthesia and critical care medicine.
With broad expertise in healthcare processes, Hill is focused on shaping healthcare delivery in an evolving industry, much like the high-profile contributions her team made during the Ebola crisis. She is drawn to nonprofit academic health systems and clinical care that deal with the underinsured because "academic medicine offers the most advanced care and research."
When considering medical school applicants, Hill draws on her own experiences at Cal Lutheran. She seeks those who are well rounded and able to connect on a personal level with others.
"There is so much to healing and caring beyond science. It's about treating the whole person and medical professionals need to be multidimensional in order to do that authentically," she says. "The science is advancing every year and the technical precision is vastly important, but having other interests in our lives allows physicians to truly connect with others."
Those authentic connections are important to Hill, and it is a philosophy that is woven into all areas of her life. At her home in Atlanta, which she shares with her husband Mica and their rescue dog, Scooter, a soulful shelter mutt they adopted while volunteering, cooking is just one more example of how she connects with others.
"There's cooking … and then there is 'cooking,'" she emphasizes. "I find so much fellowship around food with people coming together. It represents giving and sharing. It's about the experience."
She is fully dedicated to the entire experience, taking raw materials and turning them into something special people love. From learning to make her own cheese, bread and pasta to growing her own herbs -- cooking is a labor of love for Hill.
"I simply love caring for people, and for me sometimes that means feeding them," she says. "It's not about perfection, it's simply about the joy of doing it."
Hill continues to reflect the values she gained at Cal Lutheran. Recalling the young cowgirl from Paso Robles, she is adamant about embracing the experiences you are given. "You don't always know where the path will lead, but there will be options along the way. One of the greatest lessons you can learn is to be receptive to the possibilities."
For more information on Dr. Hill and her work at Emory University Hospital, see "Out in Front" in the April 2015 issue of CLU Magazine.